A Long History of Japan-Africa Cooperation but Little Publicity
By 2012, 26 African countries had Japan International Cooperation (JICA) offices.  These are: Benin, Botswan, Burkina Faso, Cameroon, Côte d'voire, Democratic Republic of Congo (DRC), Djibouti, Ethiopia, Gabon, Ghana, Kenya, Madagascar, Malawi, Mozambique, Namibia, Niger, Rwanda, Senegal, South Africa, Sudan, Tanzania, Uganda, Zambia, and Zimbabwe.  We will briefly discuss some of the salient features of JICA, since as we have repeatedly stated, Japan has been doing a lot of good using an excellent model, but few people know about it.  The reader is advised to be patient with a lot of information and figures—they deserve to be displayed.  First a brief history of JICA.  We shall select some major highlights and issues/programs of the long history that dates back to 1954.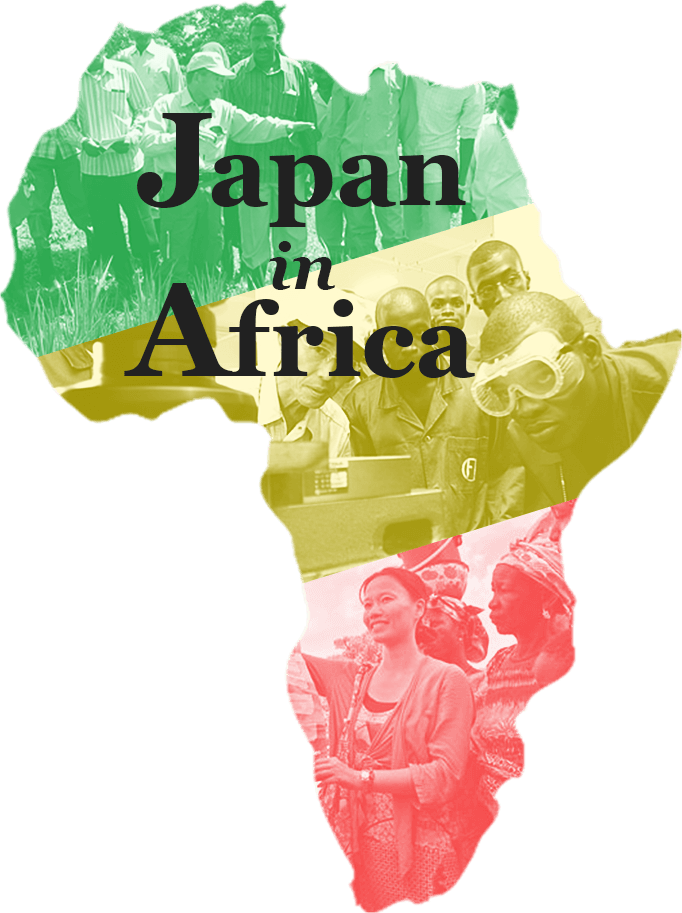 History of JICA: Times and Issues/Programs
January 1954
The Overseas Economic Cooperation Fund Law is promulgated
December 1960
The Federation of Japan Overseas Association established
March 1961
-The Overseas Economic Cooperation Fund (OECF) is established. Approximately 5,444 million yen given by the government, establishing OECF.
-The statement of Operation Procedures is approved allowing operation to start.
June 1962   The Overseas Technical Cooperation Agency (OTCA) is established.
April 196    Japan Overseas Cooperation Volunteers (JOCV) Office is established by OTCA
May 1974              –Act of Japan International Cooperation is promulgated
August 1974         -The Japan International Cooperation Agency is established
December 1974    -The Statement of Operation Procedures is implemented.
April 1978              Act of JICA is revised to include promotion of Grant Aid Operations
October 1983         The Institute for International Cooperation is established
April 1986              The Japan Disaster Relief Team (JDRT) is formed
April 1987               Special Assistance for Project Sustainability (SAPS) is commenced
April 1988               Special Assistance for Project Formulation (SAPROF) is published
November 1989        OECF Guidelines for Environmental Considerations is published
January 1991          Evaluation Guidelines are published
May 1991      OECF Policy for Consideration of Women in Development (WID) is published
April 1992     Special Assistance for Project Implementation SAPI) is commenced
December 1992  The Handbook for Women in Development; (WID) Consideration is published Annual Evaluation Report is published
October 1999      The Japan Bank of International Cooperation (JBIC) is established
April 2004            The Guidelines for Environmental and Social Considerations are published
It is very clear that JICA is guided by clear, well thought-out, and progressively developed policies and systems.  Issues that are recurring are: sustainability, environment, women empowerment, evaluation and monitoring of programs, technical support and humanitarian assistance.  For instance JICA programs in Africa for the fiscal year 2011 received a total of 120, 762 million yen.  Programs funded included: sustainable management of natural resources (Kenya); resilience to unstable weather, water and agriculture, improving livestock (Ethiopia); vocation and technical training (Senegal and DRC); peace and good governance (Sudan and South Sudan); health (Mali).
Even though Japan-Africa cooperation dates back to the 1950's, we shall focus on the most recent periods since 1993 (October 5-6) when the first Tokyo International Conference on African Development (TICAD) was held.  Since then several TICAD conferences have been held as the table below shows:
TICAD Conferences and themes
TICAD is a joint collaboration between the Japanese Government United Nations, United Nations Development Program (UNDP), United Nations Industrial Development Organization (UNIDO), the World Bank and the African Union Commission (AUC). In principle, invitations to attend TICAD are extended to all African heads of state and government, as well as international organizations, donor countries, private companies and civil society organizations.[TICAD is, as it were, the vehicle of Japanese diplomacy for Africa. When Japan launched the TICAD in 1993, she wanted "to refocus international attention on the importance and urgency of African development issues as well as to promote high-level policy dialogue between African leaders and development partners."
Japan has also been engaged with the trending issue of industrialization in Africa through the initiative dubbed the Third Industrial Development Decade for Africa (IDDA 3).  Japan has funded projects in Africa related to inclusive and sustainable industrial development.  Countries that benefited from this cooperation include: Egypt, Ethiopia, Kenya, Liberia, Morocco, Nigeria, Senegal, Somalia, South Africa, South Sudan and the Sudan.  Ethiopia has particularly engaged with Japan in a series of Industrial Policy Dialogues that started in 2008 up to 2017, under the arrangements facilitated by the National Graduate Institute for Policy Studies (GRIPS) Development Forum and the Japan International Cooperation Agency.What is clear is Japan's commitment to the issue of sustainable development goals (SDGs) through technical cooperation
By Vick Ssali and Odomaro Mubangizi
[i] See JICA 2012: Japan International Cooperation Annual Report, p. 233.
[ii] Ibid., p. 46.
[iii] Ibid., pp. 47-51.
[iv] See www.mofa.go.jp/region/africa
[v] See https://www.mofa.go.jp/region/africa/ticad/what.html
[vi] See www.mz.undp.org/content/mozambique/en/home/presscenter/articles/2017/08/28/ticad-2017-ministerial-
meeting-24-25-august-2017-held-in-maputo-mozambique.html
[vii][vii] See Kenich Ohno and Izumi Ohno, "A Japanese Perspective on Ethiopia's Transformation" in Fantu Cheru et al (Eds), The Oxford Handbook of the Ethiopian Economy (Oxford: Oxford University Press, 2019), pp. 845-849.