A PRESS CONFERENCE HELD AT BATH-THE BROADCAST WE MADE ON RADIO TO THE PEOPLE OF THE WORLD-OUR CONVERSATION WITH THE ARCHBISHOP OF CANTERBURY
CHAPTER II
More than the war, it was actually Fascist propaganda that subdued the conscience of Europeans. Designed to misinform the public, it alleged that Ethiopia had accepted the enemy's overlordship-an assertion which We consistently refuted. In the month of July of the same year [1936], We granted a press conference to Sylvia Pankhurst. We used the occasion to counter the allegation mentioned earlier and to explain the real situation in the country. To listeners and to all those who follow developments in Ethiopia, We reported the following:
If I had no trust in the League of Nations, but above all, if I was not faithful to my country, I would have found it expedient to accept whatever [Italy] offered me. I had no wish to betray the confidence entrusted to me by the Ethiopian people, nor did I want to jeopardize their well-being. I rejected whatever gifts, material benefits or political positions that were offered to me to enhance my personal well-being. My faith lies in the justness and power of the Almighty God.

I have had twenty years of experience with which to realize what it means to be a leader of a nation and commander of an army. On the basis of such knowledge and experience, the man I personally appointed to lead the country is Ras Imru. Now, at a time when I am not inside the country, I consider his presence in Ethiopia as my own presence I came with a mission… [which] has not yet been fulfilled. I have the duty to take back with me to Ethiopia something tangible. By returning to Ethiopia empty handed, and without the necessary assistance for the rehabilitation and reconstruction of the country, I would shatter the hopes and aspirations of my people.

Without arms and ammunition it is impossible to conduct a patriotic, or any other type, of war. A general or anybody who has been in a position of leadership should accept this as fact.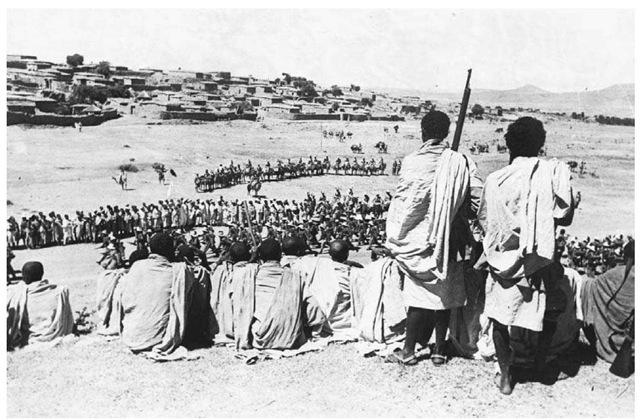 The difficulty that derived from being technically backward is [also] a problem to reckon with. In addition, the mountainous nature of the country's topography has created communication problems. Such a situation has made the availability of radio stations absolutely essential for the prosecution of the war.

Fascist propaganda misinformed and confused world opinion We, on Our part, therefore left no stone unturned and spared no effort from presenting Ethiopia's true position and wishes. On Pagume 3, 1928, i.e., on Tuesday, September 8, 1936, We made the following address to the international community from Our Legation in London:

It is evident that world public opinion has been in part duped by fascism's boastful claims of]complete control over Ethiopia and that its followers and adherents there are continuously increasing. Anyone can see that there is nothing to the claim. It is baseless propaganda. On the basis of factual information that came from Ethiopia, it can be asserted that two-thirds of the country is outside of Italian military control. Even that part of the country that the Italian army occupies can only be defended by the air force and by the expanded use of… mustard gas…

In addition to destroying human life with its aerial bombing, Italy also distributes leaflets from the air, warning that mass death and destruction will follow… it claims that the Imperial Ethiopian government does not exist and presents me to the public as if I have abandoned my responsibilities and mission. By means of such sinister acts, it consistently strives to mislead and misinform the people.

As has been explained to the League of Nations, the provisional Ethiopian government functions and, as is well known, controls western Ethiopia entirely. Even if the government faces numerous problems because of the lack of funds, it continues to operate under the leadership of Ras Imru and Bitwoded Wolde Tsadik and enjoys the support of many individuals. This fact has been affirmed. Our membership in the League of Nations and the relations We have with other countries are still maintained.

What Ethiopia seeks now is untrammeled justice as well as peace. On Our part, We continue to remind all those nations, which have an obligation to maintain Ethiopia's sovereignty, not to abandon their responsibility. Truth cannot be effaced or hidden. Those who try to conceal the sufferings being visited on my people by vicious and self-serving propaganda, should know that they will never win. When I appealed to the peoples of the world, I did so with firm faith and conviction, believing that they would translate their emotion of truth and justice into practice and help the Ethiopian people free itself from the yoke of the invader.

Our African Heritage Online