Zimbabwe President Emmerson Mnangagwa says his new government believes thinking along racial lines is "outdated" when it comes to farming and land ownership.
The president says white Zimbabwean farmers left on the land had integrated "happily" into the country's new farming system, albeit on smaller land holdings. "We don't want to think along racial lines - that there are white farmers and black farmers. That should be a philosophy of the past," Mnangagwa told the World Economic Forum in Davos, Switzerland on Wednesday.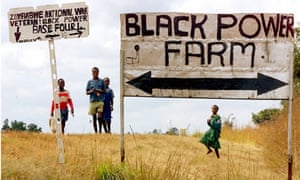 "Farmers are farmers. We have lots of former [white] commercial farmers who have happily integrated into our system by accepting to have their farms reduced or downsized," Mnangagwa added.
There are thought to be between 300-400 white farmers left in Zimbabwe, down from around 4 000 before former president Robert Mugabe launched the land reform programme 18 years ago. Some white farmers left on the land have faced harassment or been threatened with eviction by new black farmers who claim to have been allocated their farms.
Mnangagwa said while his government valued the skills of white farmers, it would promote black farmers. He said the country had last year produced a massive maize surplus through "command agriculture" in which black farmers are supported with inputs like seed and chemicals.
Original article published on the All African website.
The African Heritage Foundation invites you its screening of Mugabe: Villain or Hero? on the 22nd February at the University of West Indies from 6pm. Please click the link provided for more information on this event.
https://www.evensi.com/mugabevillain-hero-university-west-indies-cave-hill/243179520?intercomcode=lxe0TxqdYobyw14t0iJdutqG7c3NxlO4HKh23lLZlkyjbJVocy5IjSs4vWLwywFy4z0kdTMgj4SJzCy7eC00qWmxza6A5bGZvW86TEEJ5ajzf7SlulaWF9iUEuXV4bqV&utm_source=event_published&utm_medium=email_sparkpost&utm_campaign=invite_promotion&utm_content=event 
CONTACT 2620068 FOR MORE INFORMATION ON THIS EVENT.