The African Heritage Foundation (AHF), has embarked on the painting of two murals at its headquarters, "Liberty House".  A mural is more than a painted depiction created on a wall or ceiling. It is art and structural design united for a greater purpose than mere admiration.  Wall paintings have been used to aid understanding for illiterate people and have also been used to rally or inspire people in troubled times. In Mexico, paintings such aslos tres grandes, or the three great ones, portray strong, industrious people to give everyone hope and to bring the populace together.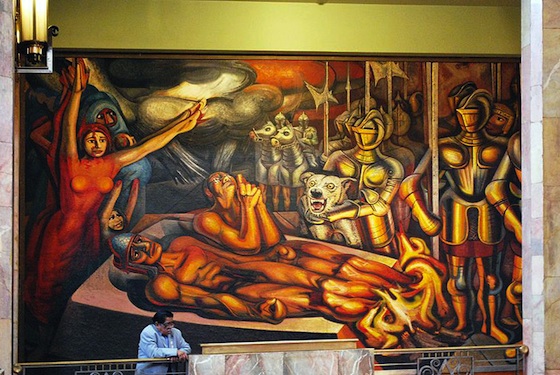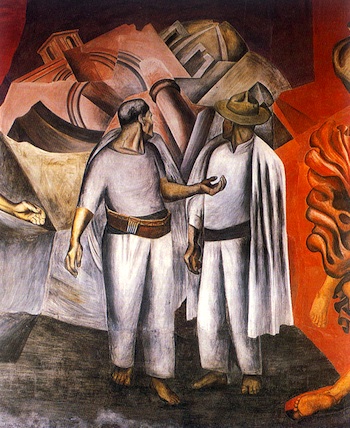 The AHF intends to use its murals as triggers to a consciousness that reminds us of who we are as a people. Triggers that awaken us to the reality of the neocolonialism that directs our path at present. Triggers that will not allow us to accept less than we are entitled to, just as any other race or nation of people.
As we begin Black History Month 2019 I would like to share with you this article I found in "Ozy" a very interesting and informative website. It is the history of wall painting and the Ndebele.
The article tells us that in South Africa, the Ndebele have long been an oppressed minority, but that had never stopped Ndebele women from sustaining their cultural identity through the powerful visual language of their beaded body adornments and distinctive homestead murals. It continued by noting that, "wall painting flourished because it helped a woman proclaim who she was,"
Our story tells us that  Southern Ndebele broke away from the Hlubi people of KwaZulu-Natal in the 1600s and fled to the interior of what is now South Africa. The Nzunza and Manala Ndebele clans were introduced to wall painting when they arrived in the area near today's Pretoria and lived among the Sepedi people. It would stand to reason that the Sepedi people had their own tradition of wall painting.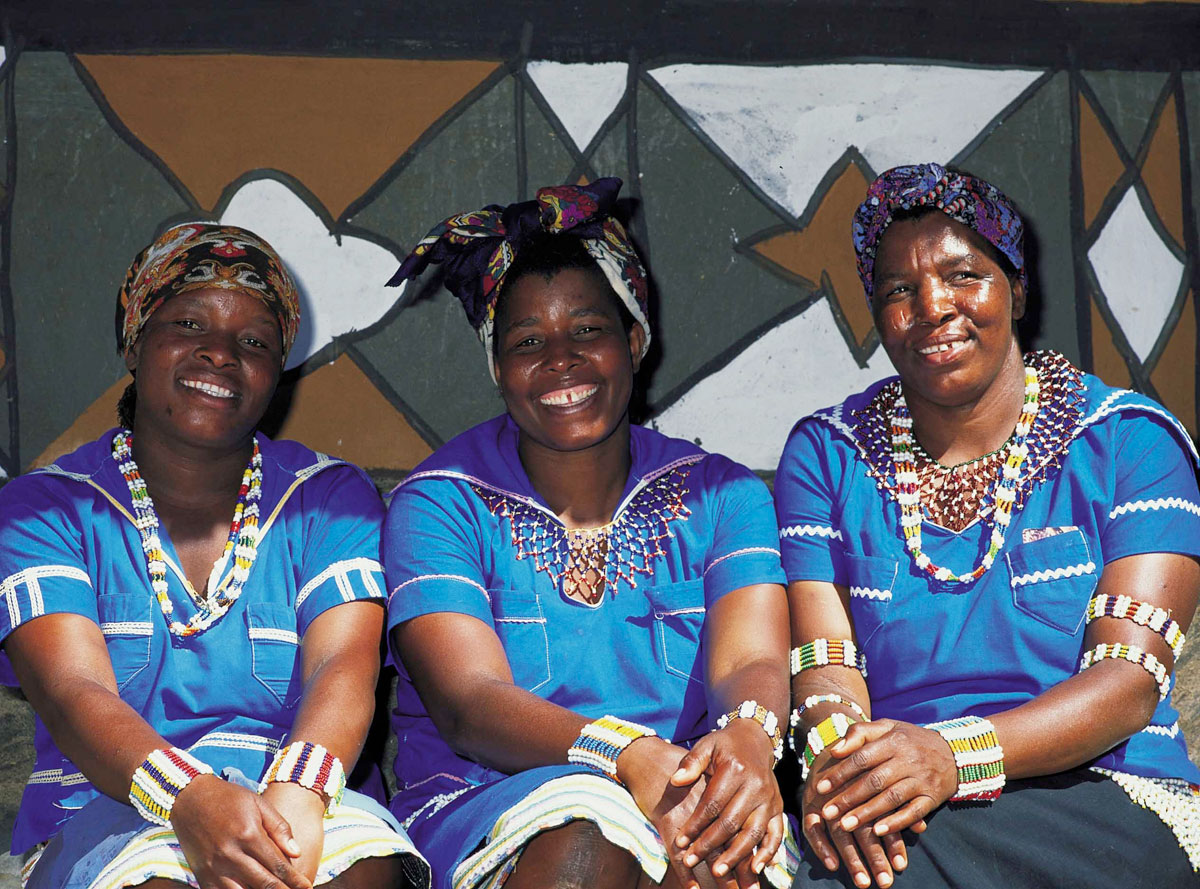 As I read on I learned that the Ndebele wall painting flourished after 1883, when the Nzunza Ndebele clan was defeated. The victorious European invaders seized their ancestral lands as farmland and placed Nzunza families on Boer farms to work as indentured labor for a minimum of five years. Ndebele families, who until then had lived in villages, were now isolated from one another and forced to confront a fundamental question: How do we keep our traditions alive when we've been plucked from our ancestral land and village life? How do we keep our African cultures and traditions alive in 2019 and beyond? How do we breathe life into a culture that honoured its women and depended on its community? Can we Sankofa the energy that says "Ubuntu' I am because you are, and you are because I am? Can we get up off our bent knees and backs, buckling under the weight of consumerism and rise to be creators and masters of our fate?
In continuing, the article suggests "inspired no doubt by the sophisticated design of their beaded aprons, the Ndebele women developed an architectural style that made the individual family home a "village." This for me is an interesting concept, that suggests that individual homes were open to all, or at least were managed to meet the collective needs of all.  Cultural impact is felt when over time, as they were provided with rectangular Western beds and tables by their Boer employers, the Nzunza Ndebele abandoned constructing circular huts in favor of rectangular houses with thatched roofs. One must wonder if this abandonment was voluntary or forced. The communal village of round grass huts was replaced with a single family's homestead, which was made up of a complex of square houses, each allocated (in terms of seniority) to the wives within a polygamous marriage and the offspring of those wives.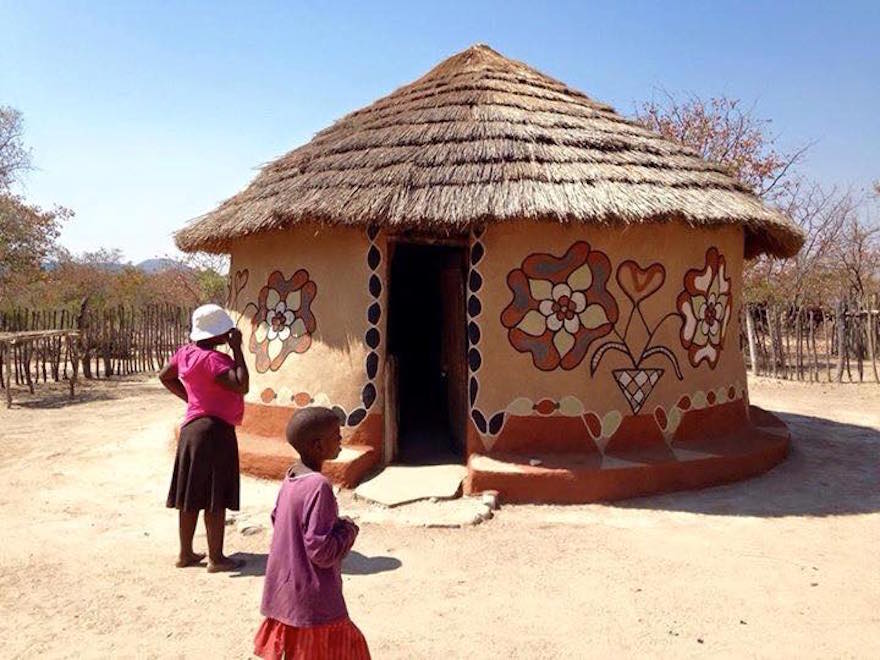 As the article drew to a close it noted  that there was continuity between the spatial arrangement of the homesteads and the geometric designs of the murals. In the early days of the new order only earthy pigments were used, along with textured, rhythmic patterns that the women created by running their fingers through the wet clay. In the 1940s, the Ndebele added a new color to their palette from an unlikely source — Reckitt's Blue laundry detergent, which gave splashes of glorious ultramarine to their walls. Later, when oxides became readily available, the women painted with reds, greens and yellows. Traditionally, murals were redone every year as the summer rains washed away the pigments, but the arrival of latex paints in the 1970s meant colors remained vivid for much longer. As the AHF  engages in building its house of black consciousness using murals as one material used for construction, I, one of the artist involved in the project ask myself, would it be ok for my art to be painted over every couple of months or annually? A revolving of revolutionary art. I like it!
The writer of this piece of our story concluded that there was no direct symbolism in the painting. The women took inspiration from what they saw around them: Razor blades, shopkeepers' scales, gabled houses, telephone poles and even car registration plates have featured in their artwork over the years. Oddly, animals are largely absent. The murals, which can be 40 feet long, are all painted freehand, without any set squares or rulers.
Ndebele art was brought to the world's attention in the 1940s through the work of photographers like Constance Stuart Larrabee. Ironically, the apartheid government actively encouraged the painting and even went so far as to create cultural villages, which served as an advertisement for so-called tribal purity.  As more and more Ndebele have been forced to work in cities, their culture and traditions have been gradually diluted.
In 1989, when Esther Mahlangu  was working at the Botshabelo Cultural Village about 80 miles east of Pretoria, she was scouted to attend the Magiciens de la Terre exhibition at the Pompidou Center in Paris. There, over the course of two months and with museum goers watching, she painted an undecorated replica of her own home. "I do not paint with brushes; I only use chicken feathers, so I took my own chicken feathers with me," Mahlangu said in an interview.
Since then, Mahlangu — who cannot read or write and who only speaks Ndebele and Afrikaans — has become an international superstar, with her work adorning BMW automobiles, Belvedere vodka bottles and those panels in the Virginia Museum of Fine Arts.
Together with a few of her contemporaries, she has taught hundreds of girls and boys (yes, boys) to paint. These days very few Ndebele paint their own homes — the structures are mostly faced with brick — but the Ndebele have a strong core, and both male and female initiation practices are alive and well.
WORKING ON THE WALL ………
Simba's LOOK FOR ME IN THE WHIRLWIND
  Ben's OYA
The AHF mural project has a budget of $5000 attached to it as the charity would like to purchase an air compressor and two air brushes with a start up stock of paint. Acrylic paint and brushes are also needed to facilitate student participation in this house mural project. If you would be willing to make a donation to this particular project please make contact with the AHF to arrange how you can do so. Subscribe to the website to receive the AHF monthly newsletter that gives updates on all projects, the donations received for each project and what is still needed. No donation is too big. No donation is too small.
Thank  You. AHF Family.