Introduction
I start with a disclaimer.  The cartoon illustrating this brief article was sketched in 2016 when the contest for the White House between Donald Trump and Hillary Clinton was raging.
The article read: "African Musings: Trump, Clinton and Tears of Aleppo." In the cartoon was also a little child Omran with a blood-stained face, looking dejected and abandoned as the war in Aleppo was raging.  This illustration portraying Trump and Hillary Clinton facing off, with Trump tearly while Hillary was eyeing the White House, and a few of American famous slogans that portray US's public philosophy, had some irony and premonition bent to it. Hillary was portrayed as being closer to the White House than Trump. The rest as they say is history.
I look at the current trajectory in USA presidential elections retrospectively, with the above cartoon in mind and point out where US is heading in the few years to come.
Trumpism versus Globalism
Four years later, President Donald Trump, probably the most divisive and comical political leader in US history, is now facing off with Joe Biden in a hotly contested presidential race (by the time this gets published the winner will be known and mostly likely it will be Joe Biden). By far 2020 US presidential elections have been the most observed and commented upon globally. What Trump managed to achieve even though unwittingly, was to radicalize the entire world and American voters to take politics seriously. Voter turnout, we are told is on record high, with millions voting by post many days before the actual voting day. Parodoxically, Trump won the 2016 elections under the (in)famous slogan, "Make America Great Again." America became great and has been fighting to reclaim the cherished values of democracy, inclusivity, globalism, embracing multilateralism and even fielding a women Vice-Presidential candidate Kamala Harris who is of African American background. This, I argue is the dramatic reversal of Trumpism and the rebirth of what the founding Fathers of the American constitutional dispensation had in mind when they declared: "We hold these truths to be self-evident that all men [sic] are created equal with certain inalienable rights, among these, life, liberty and the pursuit of happiness."  Notice how this famous quote says "all" and note a few or even just Americans. It is a universal maxim.
While Trump was rolling back all the Barak Obama stood for–universal health care, multilateralism, commitment to climate change and numerous other international obligations, the world looked on in disbelief wondering what had become of the world's super-power.  Even as Covid-19 was raging and wreaking havoc across the world, with WHO fighting tooth and nail to contain the global deadly pandemic, Donald Trump was busy downplaying its deadly impact and even withdrew financial support to WHO.  This is the broader context in which this year's USA presidential elections took place.  These are the key issues that Joe Biden dwelt and framed his campaign around and shook Trump's political edifice.  Presidential debates between the two protagonists, as the whole world witnessed were a fiasco, true to Donald Trump's belligerent and confrontational style of leadership.
While Trump clearly stood for narrow sectarian US interests amidst a sharply polarized world with increasing global threats such as Covid-19, terrorism, and global poverty, Joe Biden clamored for a more secure, inclusive, climate-change conscious global system where "the strong are just and weak secure", just to quote the words of J. F. Kennedy in his inaugural address.  Clearly, this year's US elections are about the choice between Trumpism and globalism, in the context of what role can America play in a multipolar world, where multiple centers of powers are contesting for dominance, including non-state actors such as terrorist group and Multinational corporations. This complex world needs certain political skills and intuitions that clearly were lacking in Trumpism.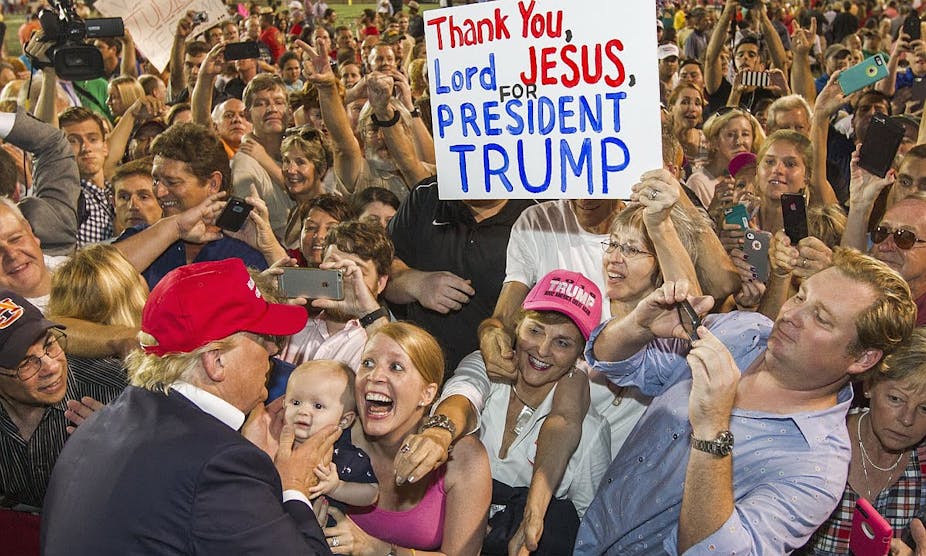 Looking Back to the future and Beyond
The coded message in the illustrative cartoon is this.  That Trump would have four years of dramatic rule full of sound and fury signifying little and ending up with tears.  That a female leader would emerge in the shadow of Hillary Clinton and bring about some radical transformation in the US politics. The details of how this would come about are never clear since this is conjectural and speculative prediction.  Time frames in such predication are not the issue.
What should we look for in the horizon? USA has to decide where it wants to lead those who cherish the values of democracy, freedom, inclusivity, and a peaceful, just and global order. The other alternative of narrow national interests has been tried and found wanting.  Other global powers such as China as rising and very fast. Battles are being waged on who should control the tech industry and innovation. US is slowly loosing it clout in this regard to China or even India. America still has a competitive age over all rising powers with its "soft power." The US has to make up its mind whether to shy from the global role, as "one Nation under God" with its manifest destiny creed, or stand shoulder high and reclaim its superpower role both ideologically and programmatically in being seen as a champion of multilateralism even if it means giving up some of its domestic strategic interests for a greater global common good.
The next US president has a job cut out for him given these brief thematic areas highlighted in this article.  And if US takes this task seriously, the unprecedented massive voter-out that both Trump and Biden inspired, can be a catalyst for a resurgence of global democracy that has been on the decline in most countries of the world. The world today needs more democracy, globalism, common good, preferential option for the poor, solidarity and respect of the dignity of the human person, now not less.
By Odomaro Mubangizi