Floats or Fry Bakes as Trinis call them are a traditional breakfast meal, usually eaten with tomato and saltfish or fry shark and traditional Twin Island condiments. Maracas Bay in Trinidad is famous for their Bake n Shark offerings. The pocket formed in the float is attributed to the yeast and baking powder and the hot oil they are immersed in to deep fry.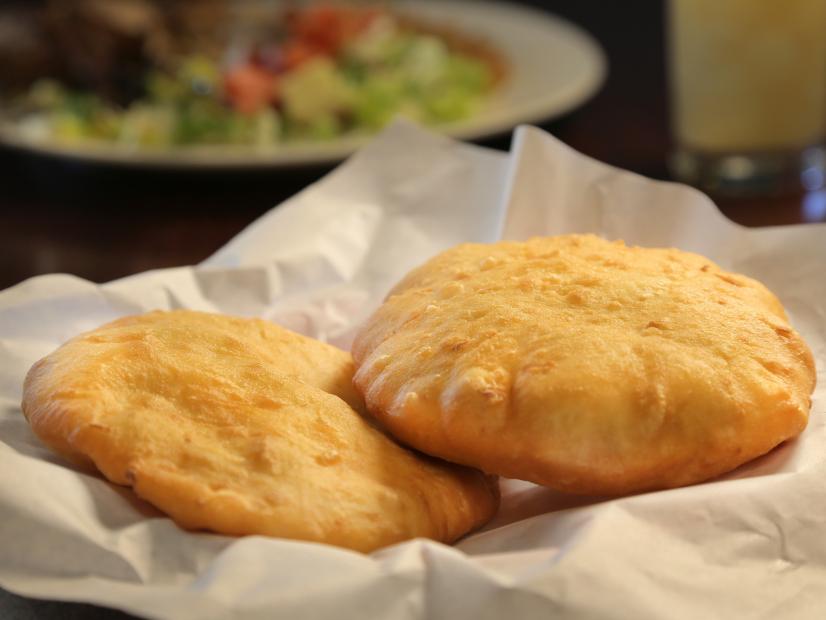 Though, these dishes are traditionally known to us here in the Caribbean. It can be assumed that they have some African retention's to foods like Puff-Puff in Nigeria or Beignets as there are called in Cameroon or even Bofrot as the Ghanaians call it which are all a popular street food with the same ingredients as Trini fry bakes but are deep fried into small balls. In South Africa there is a fried dough called a Vetkoek, which is either served with a cooked minced filling or with jam. Vetkoek means fat cake in Afrikaans. One more similar African food is the Botswanian Magwinya. This deep fried donut is a national favourite and though it is similar to its neighbour the Vetkoek it differs in its texture and taste making for a lighter, moister pastry and served with a sweet or savoury topping.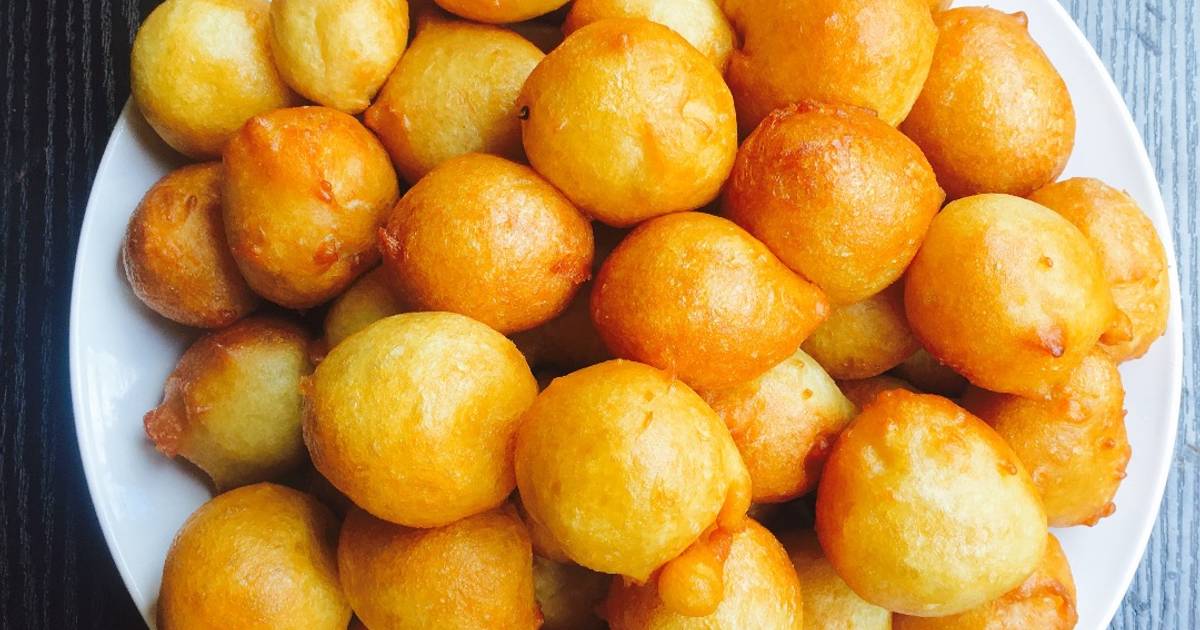 Nigerian Puff Puff
Bofrot Ghana
Vetkoek South Africa
Veggie Living: Our version to this classic Caribbean dish will substitute white flour with whole wheat flour as a more natural grain. Additionally, you can substitute flour altogether for a gluten free alternative, bearing in mind that the dough needs to have a smooth consistency after kneading, which lends to the pocket formed in the float, making it puff up.
Recipe and Instructions
Veggie Style CurFew Floats with a Tomato and Lentils Peasie
Makes 20 avg. sized floats
Floats Dough ingredients                
4 cups of whole wheat w/w flour (sieved)
3 tsp of dry yeast
2 tsp brown sugar
4 tsp cold butter
2 tsp baking powder
1 tsp salt
1 ½ – 2 cups lukewarm water
1 – 2 tsp regular cooking oil
You will Also Need
1 medium to large mixing bowl
1 dish cloth
Rolling pin
 Instructions
Remember to WASH your hands and all utensils properly before preparing any meal.
Combine all dry ingredients in the mixing bowl (w/w flour, yeast, sugar, baking powder and salt)
With your hands mix well
Add cold butter to dry ingredients and again with you hand crumble the butter together with the flour mixture combining them well. The mixture should be crumbly after about 5 mins.
Add lukewarm water gradually. Knead dough to a consistency that is not too soft and definitely not too stiff. A medium to soft dough is the aim slightly tacky. (Use lukewarm water as needed)
Knead for 8 -10mins or until a smooth medium consistency is achieved.
Lightly sprinkle both the bowl and the dough ball with oil to prevent the dough from sticking.
Allow to sit in a warm place (an oven or microwave) for an hour. Cover with a damp kitchen towel.
TIPS and Questions You May Ask 😉
If you use w/w flour I recommend sieving the flour before use.
Why, you may ask?
Floats tend to require a very light dough and process. I like to remove some of the bran from the w/w flour before use, making it lighter.
It is important to use your hands.
Why, you may ask?
It is only with your hands that you feel the texture of the dough in my opinion. Also the heat from your hands helps to melt the cold butter.
The butter needs to be cold.
Why, you may ask?
When it is cold and the crumbled with the flour as the recipe instructs it gives the pastry that flaky texture when fried, similar to the flakiness that cold butter gives to scones.
Do not over work the dough. Meaning knead for just the exact time.
Why, you may ask?
Over kneading tends to make the dough stiff and when fried doesn't lend to them puffing and making the pocket.
Lukewarm water is important.
Why, you may ask?
Since dry yeast was used lukewarm water along with the sugar are needed to activate the yeast.
It is necessary to sprinkle the dough with oil before it sits to rise.
Why, you may ask?
As the dough sits the yeast is activated as it expands in the bowl. The oil allows the dough the rise and not stick to the bowl.
Instructions Continued
 After 1 hour your dough should have risen twice its original size.
Remove from bowl and place unto a lightly floured surface to divide.
To roll dough, lightly flour flat surface rotating rolling pin from the middle to the edges of the dough balls, keeping it even and not too thin. Flattened dough ball should be about 4-5 inches in diameter.
Roll out about 4 before beginning to fry.
Heat oil over a medium heat. Once oil is hot add 1 at a time allowing it to be completely immersed in the oil. Gradually, a puffiness will appear. Using a spoon heap oil over the top of the submerged float as the pocket appears. Flip over on the other side and allow to fry until both side are equal golden brown.
Remove from oil and let excess oil drain.
Add another float repeating process.
Cut a slit in the side of the floats to add Tomato Lentil Peasie Filling
TIPS and Questions You May Ask 😉
I have found that the easiest way to divide float dough is to cut the whole in ½ and then the ½ in ½, then half those halves and so on until the desired amount is obtained. This recipe makes about 20 evenly sized floats.
Also if you want to save some for later use, simply wrap individual dough balls in cling wrap and store in the refrigerator. These can be stored for up to 7 days. Simply remove from freezer, defrosting for 10 mins and follow the steps from rolling to frying.
When you have finished frying cover with the dish towel to lock in moisture.
 Tomato and Lentil Peasie ingredients
1 pack Lentils 500g (precooked) **
4 medium sized tomatoes (diced / sliced)
2 large onions (finely diced)
4 garlic pods (finely diced)
1 medium sized plantain (diced)
¼ medium sized cabbage (shredded)
2 tbs regular oil
½ tsp salt (optional/ or to taste)
1 medium sized sweet pepper (finely diced)
1 small hot pepper (finely diced) (optional)
(Chopped) assorted garden herbs –chives, celery, parsley, thyme, marjoram- depending on availability.
Spices – ½ tsp turmeric, ½ tsp curry powder, ¼ tsp gerra, ¼ tsp allspice – depending on availability or taste.
You will also Need
1 large frying pan and a pot spoon
Instructions
** Lentil peas are cooked beforehand and the stalk is saved.
In a large frying pan heat oil.
Add diced plantain and shredded cabbage, sauté for 2 mins.
Quickly add chopped herbs, finely diced onions, garlics and sweet pepper and sauté for another 1 min.
Add diced tomatoes and spices mixing slightly to combine and cover for 2 mins.
Add pre-cooked lentils to frying and combine cover for 5 – 6 mins. Stir periodically.
Add salt to taste.
TIPS and Questions You May Ask 😉
If peasie mixture is drier than expected.
What should you do?
Add 1-2 tbs of the pre-cooked lentil pea stalk that you saved. **
Do not over fry the peasie.
Why, you may ask?
It gets too dry.
Cooking is an expression that crosses boundaries.
Embrace the challenge, enjoy the journey.
Felisha Osula