The higher the monkey climbs, the more its ass is exposed. This was my initial thought after reading "Ganja Ease", an article published in the Barbados Today online newspaper. The article spoke to the manifesto of the Democratic Labour Party and some of its contents.
Written by Simba Simba
As always, I ask you to share this article if you agree with it.
One of the pledges to Barbadians given in this manifesto is the promise to decriminalize small amounts of the plant for personal and medical use. Quoting from that article, "The incumbent Democratic Labour Party (DLP) is promising to decriminalize small quantities of marijuana for personal use, as well as for medical purposes, should it retain power in next week's general election." Really what this says to me is that the DLP is willing to trade criminal records for votes. I cannot even find the words to express the disgust that has engulfed me after reading that one sentence in DEM manifesto. First of all this clearly shows that a recognition has hit this party, or that they knew all along, that something is wrong with the law that governs the possession and use of the cannabis plant. Seeing that this acknowledgement has come in the form of a manifesto, one would think that the government would instantly stop the arrests of persons found with small quantities of the plant or a tree or two in their backyard. However this was not the case, and while the DLP tries to trade votes for an ease from an unjust cannabis law they have upheld from 1966 until now, my brothers and sisters continue to face incarcerations and heavy finds for this plant daily.
The article goes on to say, However, Attorney General Adriel Brathwaite has said Barbados "will not, and should not jump ahead" to decriminalize ganja without proper dialogue.
"I am not an advocate of the decriminalizing of small quantities because we do not know what we would be encouraging young people to put into their bodies," Brathwaite said in November 2016 during debate on legalizing the drug.
As recently as last September the Attorney General also repeated his position that any move towards decriminalization should be made from an informed position."
It must be noted that Attorney General Adriel Brathwaite is hardly in attendance at public forums that debate the use, misuse, decriminalization and legalization of cannabis. I know this for a fact as I attend the majority of them. At the last public forum held in September 2017 at the Lloyd Erskine Sandiford Centre, after speaking the Attorney General left leaving many in attendance disappointed but not surprised. I am really not sure who he would like to have this proper dialogue with. Additionally, tons of research on the plant has been done and is available to anyone interested. The University of the West Indies has done and continues to do extensive research on the plant and grows it on campus.
Should we assume that based on what is presented in the DLP manifesto that the Attorney General has changed his position on cannabis? Maybe the left hand does not know what the right hand is doing in that administration and is confused within itself.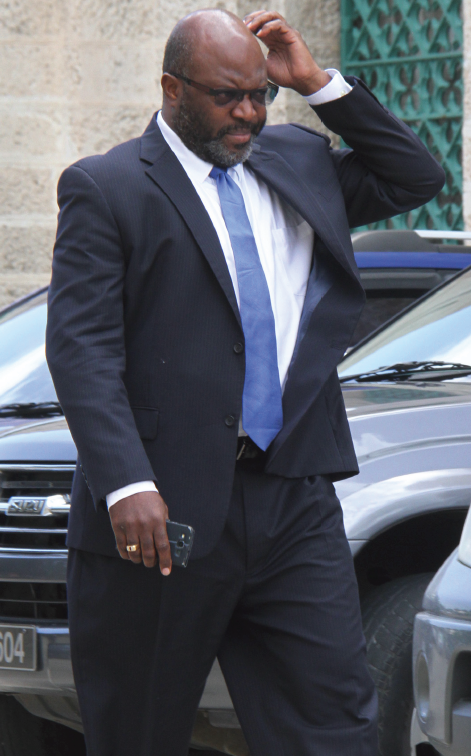 Barbados is being held to cannabis ransom by the DLP. I know that we as cannabis advocates and users should not pay this ransom.  I also know that those who meditate in the heights of cannabis will never pay this ransom.
Simba says, keep your treachery and I will keep my dignity. Ganja will be free with or without the DLP and Attorney General Adriel Brathwaite.  Get thee behind me DLP, we will not be tempted.
I leave you with my personal thought as far as cannabis and policies put forward for its evolution in our society. The United Progressive Party (UPP) has the best representation for cannabis in its manifesto. I do know that if given the opportunity Ms. Lynette Eastmond will take cannabis where it needs to be in our society.
A vote for the UPP is a vote for a real ganja revolution. A revolution for and of the people.
This is what the United Progressive Party says about the cannabis revolution in their manifesto.
1. Immediately legalize the possession and consumption of cannabis for personal use
which would allow Barbadians over 18 years of age to access it for recreational and
medical purposes. In these circumstances individuals would be allowed to grow a limited
number of cannabis plants.
2. In the interim while the legislation is being drafted allow a moratorium on the arrest and
charge of individuals who may possess small quantities of cannabis.
3. Establish a task force including government and representative organisations concerning
health, public safety, justice, the youth and business with a mandate to review and
reform the governance framework with respect to cannabis in Barbados and to report
back within a time frame of one year. The task force would advise on the following:
 Ensure that Barbadians are well informed about any risks or benefits involved in the
use of cannabis through sustained education campaigns;
 Extend and improve substance abuse campaigns for products such as tobacco,
alcohol and sugar to include cannabis;
 Protect public health and safety by examining measures such as punishing those
engage in driving a vehicle under the influence of cannabis; and
 Consider the commercialization of the cannabis/hemp product.
4. Engage in the ongoing collection of statistics in order to ensure that the impact of any
proposed new framework can be monitored.
You are invited to attend the African Heritage Foundation's African Liberation Day event Sankofa. Click link for more info.
SANKOFA 2018: Black Woman and Child …. What is it all about?