Have you ever heard of a plant called Euphorbia Hirta? Maybe you know it by another name, the Asthma Plant. Take a look at it below, it may have a different name in your country.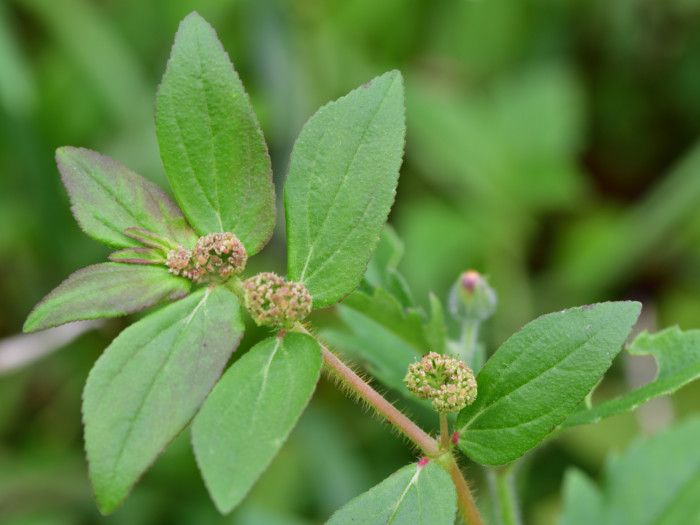 Professor Rasheed Awodoyin a Weed Ecologist, said that the plant was known as Asin Uloko in Edo, Nonon Kurciya in Hausa, Chamma Chamma in Kanuri, Endamyel in Fula-Fulfulde (Borno), Ba Ala in Owerri and Akun Esan in Yoruba.
Euphorbia hirta is native to Central America and a very common weed of the tropics and subtropics; it occurs throughout tropical Africa and also in South Africa.
Why am I telling you about Euphorbia hirta? Scientists from the University of Ibadan have recommended Euphorbia Hirta as a herbal alternative to mitigating some of the diseases associated with the COVID-19 pandemic.
Do you know where Ibadan is?  Ibadan is the capital city of Oyo state, Nigeria. It is located on seven hills (average elevation 700 feet [200 metres]) about 100 miles (160 km) from the Atlantic coast. Ibadan's beginnings are shrouded in mystery; they were recorded only in oral tradition. It is said that the earliest group of settlers at Ibadan were fugitives from justice who were expelled from nearby villages. This small group later swelled with the arrival of immigrants from all over Yorubaland (now western Nigeria).
Ok, let's get back to the plant. Euphorbia hirta is an important medicinal herb used throughout its distribution area, including tropical Africa. It is held in high esteem, as a decoction or infusion, to treat gastrointestinal disorders, including intestinal parasites, diarrhoea, peptic ulcers, heartburn, vomiting and amoebic dysentery. It is also regarded as an outstanding medication to treat respiratory system disorders, including asthma, bronchitis, hay fever, laryngeal spasms, emphysema, coughs and colds. The leaves are mixed with those of Datura metel L. in preparing 'asthma cigarettes'.
Datura metel L
Other principal uses are as a diuretic to treat uro-genital diseases, such as kidney stones, menstrual problems, sterility and venereal diseases. The plant is also used to treat affections of the skin and mucous membranes, including warts, scabies, tinea, thrush, aphthae, fungal afflictions, measles, Guinea-worm and as an antiseptic to treat wounds, sores and conjunctivitis. The plant has a reputation as an analgesic to treat severe headache, toothache, rheumatism, colic and pains during pregnancy. It is used as an antidote and pain relief of scorpion stings and snakebites. It is antipyretic and anti-inflammatory. In West Africa the plants are widely used as a galactagogue, and in Nigeria they are marketed for this purpose. In Uganda whole plants are chewed to induce labour during childbirth.
Euphorbia hirta is included in the African pharmacopoeia of the Organization of African Unity as a dysentery medication. In Java and India the tender shoots serve as famine food, raw or steamed, but they may cause intestinal complaints. In West Africa Euphorbia hirta is used as a livestock fodder.
Professor Rasheed Awodoyin said that the plant was a herbal alternative to curing dry cough, respiratory failures, fever and some other related symptoms of chronic flu, all of which were associated with COVID-19. He also noted that the plant, after being boiled, could be taken as tea and could serve as first aid treatment for dry cough, while further complex solutions to the pandemic could still be explored. Ibadan scientists were sparked up by shared information that mucus plug of the airways and nasal chamber, among others were the causes of seizure and death from COVID-19.
"Just get a handful of the plant, steep in boiling water for 15 minutes, drink freely, as the taste is pleasant. I use it at my family level. I don't even use it for more than three days before getting immediate result," Awodoyin said.
He emphasized that such medicinal plants had curative actions due to the presence of complex chemical constituents.
According to him, the plant contains triterpenes, phytosterols, tannins, polyphenols, flavonoids, essential oil, alkaloids, saponins, amino acids and minerals, with quercitrin, a flavanoid glycoside, isolated from the herb, showing anti-diarrhea activity.
Scientists who worked on the plant to include Prof. Olaniyi Babayemi (Animal Scientist), Prof. Olapeju Aiyelaagbe (Chemist), Dr Ahmed Abu (Animal Scientist), Dr Adeoluwa (Organic Agriculturist), Dr Olajumoke Fayinminnu (Toxicologist) and Dr Funmilayo Adebiyi (Animal Scientist).
Sources: Newszent, Porta and Encyclopaedia Britannica
African Heritage Foundation