It's now common knowledge that Corona Virus (COVID-19) is a global pandemic that started in China-Wuhan in the late 2019 and spread to the world.
It has affected everyone around the globe, in developed and developing countries in one way or the other, both positively and negatively, but mostly negatively with so many registered high rates of spread of the deadly virus, infected cases and deaths. This pandemic has been a game changer, one that has brought the entire world to their knees; an eye-opener to all stakeholders in their respective capacities,  to work together towards positive change after all this, and above all, to understand, identify and apply different relevant approaches, that augur well with particular parts of the world, considering their unique socio-economic and political situation without creating more problems while fighting the pandemic.
All sectors have been hit hard during this pandemic. There has been a socio-economic and political effect due to the Covid-19 pandemic. So many losses have been registered in all sectors, tourism, education, transport, farming, politics, worship, entertainment among others, and no one knows when recovery will be realized. Some businesses have totally collapsed , leading to unemployment and no assurance of survival in the next couple of days or even months.
As a way to prevent the spread of Covid-19 among other measures, many countries put a lockdown with different time lines that would either be lifted or extended further, depending on the level of Covid-19 spread, and its effects in the country.So did the Republic of Uganda spearheaded by His Excellence, the President. At the beginning of March 2020, during a national address on Covid-19, the president suggested that ONLY essential workers would be allowed to continue with their operations under strict precautions of social distancing and sanitation guidelines from the government and Ministry of Health, in a bid to prevent further spread of the virus during their operations lest their operations would also be suspended; these included medical workers, pharmacists, agricultural or food stores, markets, police, media, cargo trucks and planes, fuel stations, financial institutions, supermarkets, revenue authorities and a few other organizations in the same category.
The rest of the businesses were to be closed for two weeks with immediate effect. All crowded places like schools, worship centers, bars, entertainment activities, political and social gatherings, parties and public transport were to be suspended for the two weeks, but later extended to more than a month. Anyone who violated these directives would be charged with "attempted murder". Although private cars with a maximum of 3 family members had been authorized to move in the first presidential address, some of the people misused the directive and started transporting other people to different destinations while over charging them, hence increasing the risk of contracting and spreading Covid-19 even to their own family members due to overcrowding. This later resulted in the suspension of use of private cars as well, hence movement was only limited to walking, use of bicycles, motorcycles (with no passenger), pickups, lorries, trucks (with a turnboy) and the local boda boda with the assumption that these means of transport would be used for agricultural produce and other essential items but not for transporting passengers. All the other vehicles authorized to be used on the road, their drivers would have to get an official sticker with authority from the Ministry of Health/Works to let them drive the cars, otherwise, they would be arrested or sent back home and their number plates retained at police. The President also directed that in case of any serious health emergencies, the Resident District Commissioners (RDC) would be the one to give permission to the affected people to use their cars or get one from the Head Quarters. His Excellence also directed a curfew in the country -no movement of people was accepted from 7:00 pm to 6:30 am for 14 days. In His words, he firmly stated "stay at home because there are no businesses operating, so, where are you going and what are you going to do outside your home?"
The 14 days lockdown came with mixed reactions but for the sake of our safety, people were ready to bear with the inconveniences and challenges resulting from the presidential directive as a preventive measure against Covid-19, hoping that it would soon be over and normalcy begins in the country. The vulnerable poor people were given some posho and beans, breastfeeding mothers were given powdered milk to help them go through this lockdown period. Whether what was provided by government was enough or not and received by everyone in need, is a story for another day. The good news is that some people received food during the lockdown, thanks to the government of Uganda and whoever donated or contributed for this cause.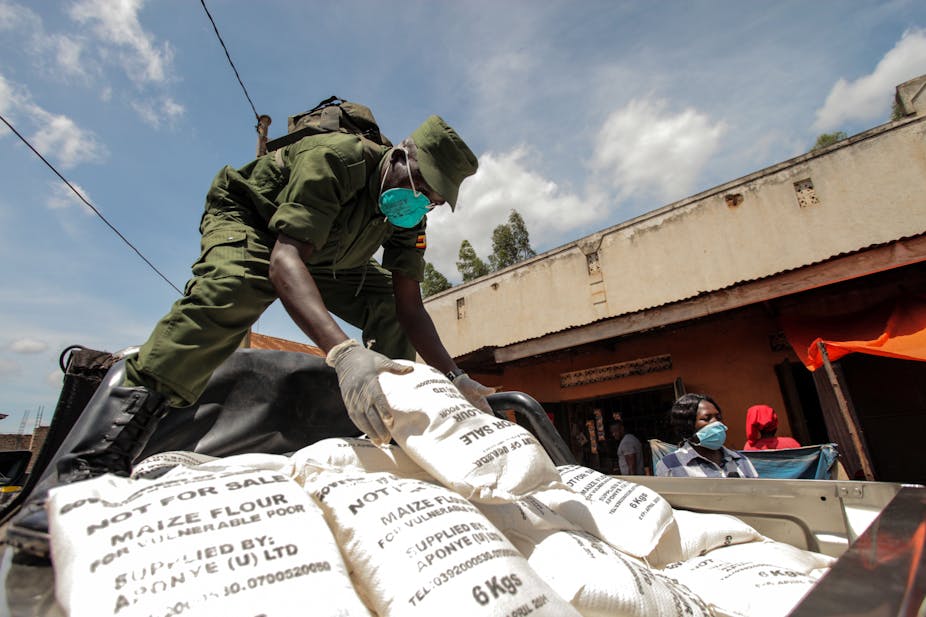 Everyone was waiting for the next presidential national address on the Covid-19 pandemic in anticipation of resumption of business little did they know that he would extend the lockdown further for more 21 days to fully study the situation. This lockdown extension was not received well by many citizens because it meant, "all the affected businesses remain closed, public and private vehicles were not to be used and curfew would go on for more than a month" yet bills still have to be paid and people have to survive in those unbearable conditions. The silver lining of the situation was that the patients who had Covid-19 kept recovering as the number of cases kept going down, which gave hope to many.
At that point, some people ran out of patience, they became creatively smart as they couldn't wait any longer for the lockdown to end. They had essential needs to take care of, so they started buying, borrowing and faking official stickers to put on their cars in order to attend to their socio-economic and health needs. Transport had become a big challenge, especially when the RDCs wouldn't easily be traced in case of an emergency hence putting the lives of the sick in more danger, that would even lead to more deaths, yet the aim of the lockdown was to "save lives". During the lockdown, many robbery cases were registered in different areas both in town and village centers because many businesses were closed, and curfew gave thieves an opportunity to break into people's shops and stores in search for what to eat as security measures were not emphasized everywhere in the country. This became another big security threat especially in the city center and several towns around the country because many people had no means of survival, yet they could not even move to their villages due to lack of transport. This means even if one has stocked enough food at home, there's no assurance that they are safe because those who are starving may forcefully want to take advantage of the tough situation and steal or even kill those who have, a lot of domestic violence cases came up due to poverty, hunger,tension,idleness among others-another Covid-19 lockdown 'death'.
Another worry was the cargo truck drivers who had to continue bringing essential items from Covid-19 highly affected neighboring countries that were at first not tested for the virus at the boarder as they got into the country. This made many people question the essence of lockdown if 'we' are not putting measures on preventing imported Covid-19 cases into the country just because we need essential goods from the affected countries, yet our own businesses are at a standstill.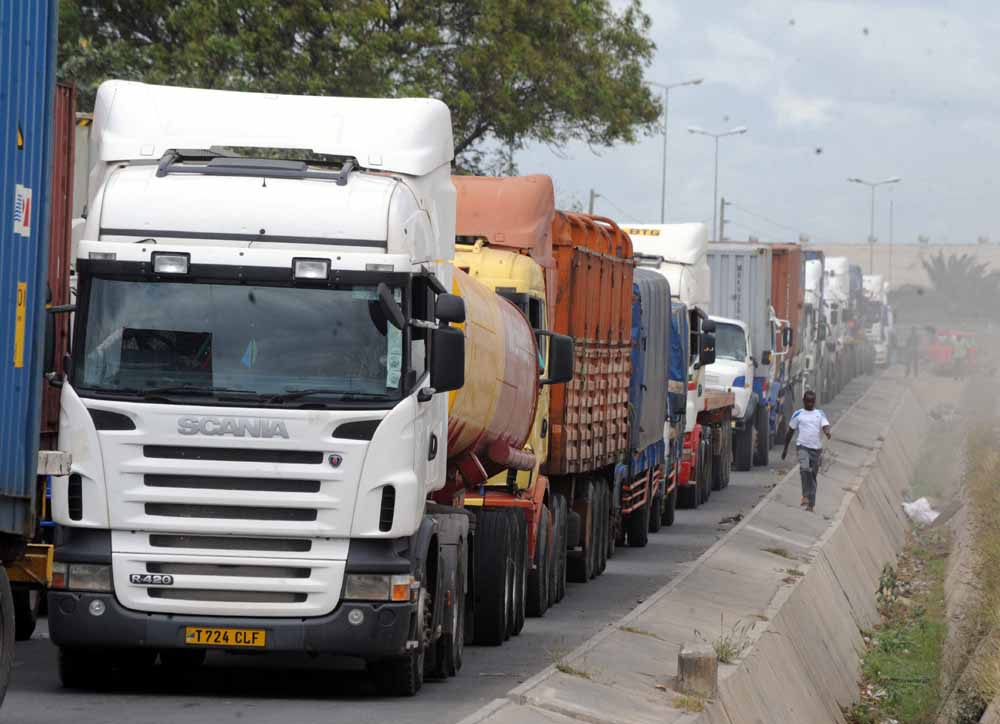 As everyone was struggling and trying to deal with the challenges of Covid-19 pandemic and counting down the 21 more lockdown days, hoping that the number of infected cases keep reducing to zero. We prepared to get back to business, but got disappointed by the cargo truck drivers that kept coming into the country; worse still, after being tested for the virus at the border, they would proceed to Uganda before receiving their results, while being in contact with other people, some of them testing positive with Covid-19 as they were already in the country; a situation that worried many people since on their way to our country, they would make stop-overs for different reasons, some would sleep in hotels at the boarder or in the country. As the patients in quarantine kept recovering and getting discharged from different referral hospitals, Covid-19 cases reduced and the situation seemed hopeful, but the numbers of Covid-19 cases kept increasing due to the continued arrival of cargo truck drivers with essential goods into the country.
Writteb by – KYOMUKAMA CHRISTINE
KYOMUKAMA CHRISTINE has taught French in the Faculty of Institute of
Language Studies, French Department and is a Patron of the French Club. She obtained a Master's Degree from Makerere University. She has taught at Universities, Language Centers, Tourism, Business and Technical Institutes. She is passionate about language, learning and teaching using the Communicative Approach in Language in different linguistic skills and units which enhances oral competence in language acquisition, technology and research. She has taught French and English languages to different age groups of learners from multi-cultural backgrounds.
She has translated various pieces of work from different disciplines. She has
participated in item-writing, assessing of French examinations for Uganda Business and Technical Examination Board (UBTEB) since 2014. She has proofread and edited various French and English documents in various disciplines and examinations.
She obtained a Certificate of Training in Curriculum Development and Assessment of Learning in Higher Institutions of Learning; also a certificate in, The Communicative Approach to Language Teaching and Learning, and in Assessment of Test Item Development and a Certificate in Higher Teaching Education.