On the 18th November 2021 the Barbados Medicinal Cannabis Licensing Authority will be hosting, "A Chat With Diaspora About (Medicinal Cannabis}".
The African Heritage Foundation, Cannabis Barbados, The Rastafari Community and many, many Barbadians think this forum to be hypocritical, and as such, should not be supported by anyone one with a working moral compass. Barbados unlike many other countries in the region, and internationally have in their quest to capitalize on the economics to be gained by " Medicinal Cannabis"', has given no consideration or concessions to the people of the island who have used cannabis traditionally for medicinal applications for many years at the risk of their freedom and in many instances their lives.
Let us recall that at the inception of the region's move toward "Medicinal Cannabis", CARICOM commissioned a task force to investigate cannabis within its territory. The findings of this task force proved very useful in providing a basic understanding of traditional cannabis use in the CARICOM region.
 The final report of the CARICOM Regional Commission on Marijuana stated, "They were mindful too, that for years, Caribbean citizens had promoted the value of marijuana for its medicinal properties.  Increasingly, these claims appeared to be confirmed by emerging scientific evidence." It went on to say that as a preparatory step to rendering cannabis as a legal substance, the CARICOM Regional Commission on Marijuana recommended the decriminalization of the plant for personal use in private premises and medical purposes. Barbados has totally ignored this.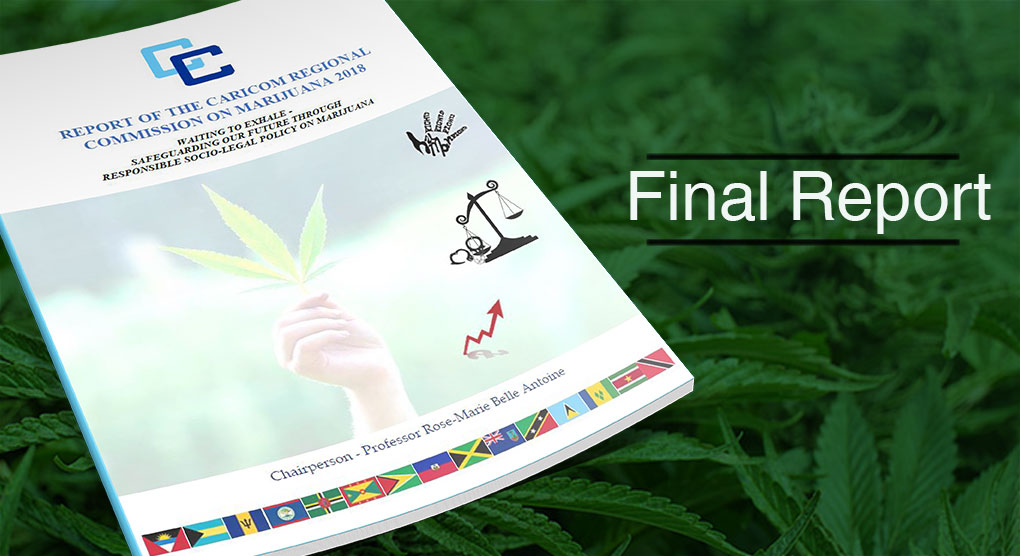 Barbados has also totally ignored the fact that the CARICOM Regional Commission on Marijuana wrote in its final report that they believed that the end goal for CARICOM should be the dismantling of prohibition in its totality, to be replaced by a strictly regulated framework akin to that for alcohol and tobacco, which are harmful substances that are not criminalized. Barbadians are yet to feel any ease from cannabis prohibition while a few advance their economic interest in the medicinal cannabis industry in Barbados. The BMCLA has recently boasted of forty five applications for cannabis licenses while thousands of Barbadians continued to duck and hide from police for any amount of cannabis. Recently the police were very proud to highlight big seizures of cannabis grown in Barbados by "legacy farmers" who are traditionally poor people, while the big money players buy their way into cannabis legality.
Dr. Shantal Munro-Knight, Chief Executive Officer of the Barbados Medicinal Cannabis Licensing Authority (BMCLA)
In your consideration of not supporting any activities hosted by the Barbadian government and their lackey's pleas take note of these facts.
The Commission is unanimous in its view that the current classification for cannabis/marijuana as a dangerous drug with no value or narcotic, should be changed to a classification of cannabis as a controlled substance.
The Commission is unanimous in its view that, ultimately, legal policy toward marijuana should be informed, not by punitive approaches, but by public health rationales, within a human rights, social justice and developmental perspective.
A too-limited approach to law reform, including one that focuses only on medical marijuana, would be counterproductive and inimical to the goals of Caribbean development, as outlined in the SDGs (Sustainable Development Goals) and endorsed by CARICOM.
Consequently, there is consensus that all criminal penalties from marijuana laws should be removed.
The Commission suggested retroactivity to correct past injustices, such as expunging criminal records.
The report noted that the drug should be banned in public spaces.
The Commission also recommended that customs law be amended to make provision for the import /export of cannabis and cannabis products, and suggested that commercial cannabis activity be decriminalized or legalized to avoid the implications of anti-money laundering legislation and proceeds of crime legislation.
The report noted that small farmers and small business-people should be included in production and supply arrangements, with appropriate controls limiting large enterprise and foreign involvement, and an equitable land use policy for marijuana cultivation should be formulated.
The implementation of "moderate taxes" was also recommended to ensure that the "black market is not reinvigorated".
There is now overwhelming support for law reform, moving away from the prohibition on cannabis and consequent criminalization.
This holds true not only from the data, but the many prominent persons and groups that have lent their voice to this cause from all walks of life, including church leaders, magistrates, judges, social workers, educators, doctors, chief justices, DPPs, Members of Parliament and senior members of the bar.
It noted that the existing prohibitionist regime induces more harm than any possible adverse consequences of marijuana itself.
Barbados has turned a blind eye to these recommendations by CARICOM, why? In light of this cannabis travesty, we must find the BMCLA guilty of being uncaring to the masses of Barbadians as it relates to cannabis justice. It is also guilty of attempting to deceive the Barbadian public by placing a token Rastafari on its board, while in fact doing less than nothing for Rastafari who continue to advocate for the inclusion of traditional medicinal cannabis within its legal medicinal cannabis framework.
We should not only withhold our support from the BMCLA at all levels, but also from the government that empowers and inspires them in their thwarted justifications of abject cannabis malice towards Barbadian people.
An uncaring government does not deserve our support. They would keep us criminals just because we are poor.
I for one. who has worked in assisting the BMCLA develop certification standards for cultivation education based on my knowledge of cannabis cultivation gained as a "legacy (illegal) farmer , will not be giving an iota of my strength to the development of the medicinal cannabis industry in Barbados anymore, unless the people of Barbados are set free from the  unjust and draconian cannabis prohibition the Barbados Labour Party insists in maintaining. I thought there could be mutual corporation and understanding in the crafting of the Barbados medicinal cannabis industry, but I was sadly mistaken. You cannot serve God and the Devil at the same time my granny would say.
In 2018 I asked Minister Weir about cannabis justice for the people. While pretending to understand my position and care about the people of Barbados, he said it was a process. We are headed to 2022 and many Barbadians have been arrested, charged and fined, some imprisoned for cannabis while Minister Weir's process continues. Does that sound like a man that cares? Money Politics over People Centered Politics. If life was a thing money could buy, only the BLP, their money friends and immediate family would live, the rest of us could die for all they care.
No please!
Elections are coming!
Written by
Ras Simba Akoma
Please share widely.