A government's relation with her citizens should be a father-child relationship.
A true father will not sleep if his children cannot sleep. A true father will not eat until all his children have their stomachs full. A true father will insist on being treated in the same hospital as all his children. A true father will not tolerate the arrest and incarceration of his children unjustly. A true father will empower his children by sharing with them the stories of those that stood up for justice; his example will ensure those stories continue.
How many of our today's youths, are aware of role models like Fela, Marcus, Amy, Malcom, Biko, Nzinga, Nanny, Walter, and countless others whose  intellectual and military abilities exposed us to the vastness and richness of our African historic pasts and culture. Fela's music, not unlike Bob's, is in the hearts on many, living in a place beyond mere music, to a profoundly authentic educational experience. Music that takes us forward with a supreme or ideal example of the kind of wisdom that must propel our society.
I often argue that militant music comes from a place of militancy, and as such can only be sung by militant people. Fela Kuti was "meant' to be a doctor, an upstanding member of Nigeria's elite like his father, an Anglican pastor who had founded the Nigeria Union of Teachers, and his mother, an aristocrat, nationalist and fiery feminist who had won the Lenin peace prize. His brothers were doctors and it would seem that his path was set.
The path that Fela chose for himself, took him in the totally opposite direction of what was envisioned for him. Fela Kuti became infamous, an outlaw musician who declared himself president of his own "Kalakuta Republic", a sprawling compound in the suburbs of Lagos that housed his recording studio and offered sanctuary to the dispossessed. At his club, the "Shrine", his band played until dawn while dozens of singers and dancers writhed and glittered amid drifts of igbo smoke. Here, Nigeria's corrupt dictators were denounced and ancient Yoruban deities honoured, all to a relentless backdrop of the "Afrobeat". I wonder if Barbadian youth who are now developing a taste for "Afrobeats", know, or are even interested in the history of this music.
His music and outspokenenness made Fela a hero to Africa's poor, but he would pay a high price for his insurrectionary micro-republic, which was repeatedly raided, and he and his followers would be arrested and beaten. In early 1977, the military junta had had enough – Fela's record Zombie, mocking the army's do-as-you're-told mentality, may have been the tipping point for head of state General Obasanjo, who had once been in the same primary school class as Fela. A thousand soldiers overwhelmed Kalakuta, brutalizing and raping as they went, then razing the compound to the ground. Fela was beaten close to death, and his elderly mother thrown from an upstairs window, afterwards dying of her injuries.
After the burning down of Kalakuta, for the first time the student community was beginning to take Fela seriously as the only dissenting voice against military rule. While a great majority of the academic and intellectual communities were struggling for jobs and posts offered by successive military regimes, Fela stood-out as one of the few successful citizens that turned down personal gains to advocate true democracy African style.
Like the case of the Student Union movements in Ghana in 1978, when Fela exiled his organisation to Ghana, Nigeria's Student Unions were clamouring to have Fela talk on their campuses. His participation in a symposium organised by the economic student society of University of Ife (UNIFE), can serve as an example of how the intellectual and elite class in Nigeria looked down on Fela despite his comments and criticisms of those in power and his popularity among the student community.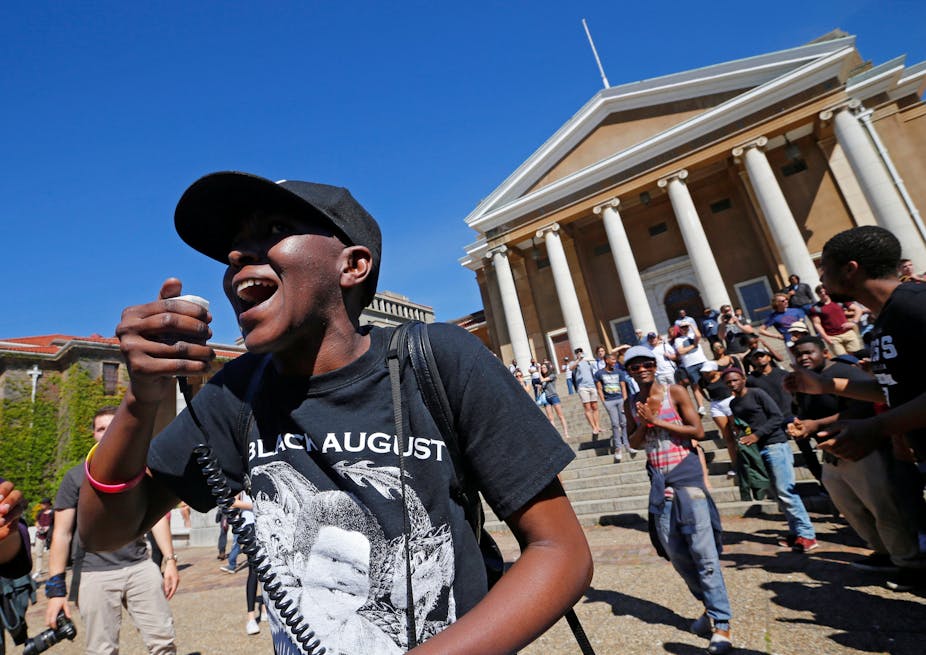 At this particular symposium while other participants were being introduced as "Professor this or that", when it came to Fela's turn the students who had heard of Fela's previous participation in lectures and symposiums of this kind demanded the moderator Professor Adejuwon, then Deputy Vice Chancellor of UNIFE and Dean of the faculty of Social Sciences to equally address Fela as a "Professor". Claiming not to be aware of Fela being awarded such title, Professor Adejuwon turned towards Fela to ask if Fela was nominated 'Professor' from any University. In reply, Fela said it was the "peoples wish" and at the end of the debate the learned professor admitted that Fela deserved a Professorship.
Fela; as we can see was the only one from that generation, who did not compromise his beliefs. He was one, to resist material gains for his liberty of speech. The policy, by successive regimes to reward prominent political activists with appointments, but reduce their likely effectiveness caught up with most of the so-called Nigerian intellectuals.
During this period of COVID-19 lockdowns in many countries across the globe, we are seeing or rather hearing the voices of Africa's youth speaking in light of their development and empowerment, in a firm resolved manner. It must be noted that several African leaders are now re-evaluating their relationships with their former colonizers and other countries wishing to engage on that continent. However, in Barbados how can we not despair when the majority of our people are not mobilized to work for change? One cannot but despair; if we compare the student movements of Universities and Institutions of higher learning today, with those in the late 1970's and early 80's. Despite the draconian military rule in place in various places, the student movements of the 70's / 80's were very conscious and engaged.
The energy of our young people; cannot be mobilized by examples of decadence and corruptions. It has to be mobilized by concrete examples of patriotism, dedication, without compromise. Today's Barbadian politicians instead of proposing ideas in debates, and in the social media, offer food, sometimes school materials and small amounts of money to potential electors to secure their votes. It is clear today, that the political paths we have taken are bad ways, they cannot be continued – it is as simple as that. For us to get to where we are today, it is clear that the path laid-down by the political parties of today for our nation is no doubt a bad way forward; this pattern of governance must be abandoned.
The paths already taken by our political leaders do not work, and we should not repeat the same mistakes. They have done almost everything that can be imagined, and Barbados is not advancing. Barbados is always in debt, heavily indebted. Barbados is small but must we be poor? Barbadian politicians are for the most part increasingly disoriented, it is therefore necessary to change our perspective, change altogether our ways of governance. We cannot continue to talk, we need to act!
While a reasonable number of our youths are getting aware, I believe we need more to wake-up, the majority of our sleeping youths. Professor Theophile Obenga said in his book titled Appel a La Jeunesse Africaine: "For all conscious Africans on the continent and in the Diaspora, the juvenile African imagination must be animated by great emotions, great ideas, and noble aspirations, powerful solidarity for possible and liberating human tasks. The detail and fear of daring must not block the African Youth."
To make the necessary change, we need to get organized using the advantage of today's social media networks. We need to choose our leaders and spokespersons, choose names for our movements (Movement of the People MOP or MASS for example), and we use MASS Manifesto as a working model, to guide us in our move towards spreading ideas on how we want to be governed. Instead of just being friends with politicians for personal gains and the sheep of their pastures.
Simba
Resources; The Guardian, Radio Shrine