Returning from Athens home to Ethiopia
Since it had been Our long-standing concern that the problem which had arisen between us and our fathers in faith, the Copts, as regards the place of our Jerusalem Convent, should be resolved in a friendly manner, We had made written submissions to the Archbishop at the time of Our visit to Jerusalem. He had given Us the reply that he would reflect upon the matter, and We therefore decided to go from Athens to Cairo in order to ascer­tain the outcome of the problem, in case he had perhaps been able to consider it already. On the 15th Nahase (= 21st August) We set out from Athens and travelled to Alexandria by a ship called 'Hesperia', for We meant to discuss this problem of our convent at a meeting with the Patriarch, Abuna Qerillos.
From Alexandria We went to Cairo, and after We had met the Patriarch, Abuna Qerillos, We were told that the deliberations about the problem of Our Jerusalem Convent had not yet been concluded by the counsellors of the synod, and therefore We felt very distressed. But the time had definitely come for Us to return home; consequently, We left someone behind who would convey to Us the news, once he had heard the outcome of the matter; We then informed the Patriarch of Our intention to depart, took Our leave, and subsequently travelled to Suez. On Nahase 21st (= 27th August), We embarked at Suez on a ship of the Messageries Company called 'Chili' (?) and reached Jibuti on Nahase 25th (= 31st August).
Dejazmatch (now Ras) Getatchaw and Qagnazmatch (now Dejazmatch) Amde, and Bajerond Sahla Dengel, who had come as emissaries from H.M. Queen Zawditu to welcome Us at Jibuti, boarded the ship, and after meeting Us handed to Us a letter from Her Majesty Queen Zawditu. Its text was as follows:
The Lion of the Tribe of Judah has prevailed.
Elect of God, Zawditu
Empress of Ethiopia

May it reach my son, H.H. Tafari Makonnen, Crown Prince of Ethiopia and Regent Plenipotentiary. How have you been? I, thanks be to God, am well.

While I was distressed about your toiling in strange and hot countries, when you were thinking only of our country's free­dom, respect, and honour, I am now very pleased about your safe return. Thanks are due to God for your return, alive, to Ethiopia, your heritage, after visiting all the countries we had proposed. Moreover, as this your present journey to Europe was a first-time experience, we had been very anxious, but now, with your safe return, the entire Ethiopian people must be pleased. Having arrived thus in peace, may He grant that we may soon see each other with our own eyes.

Dejazmatch Getatchaw, Bajerond Sahla Dengel, and Qagnazmatch Amde have come as our emis­saries to welcome you.

Written at Addis Ababa on 19th Nahase 1916 (= 25th August 1924).
We departed from Jibuti on Nahase 26th (= 1st Sept.), paused for a day at Dire Dawa, and entered Addis Ababa on the 29th (= 4th Sept.).
At the railway station, the foreign diplomatic corps in full, Archbishop Abuna Mattewos together with the hierarchy, ministers and army officers, and the people of the city, pressed for space, were waiting and received Us with joy as the gun announcing Our arrival was fired.
When We entered the Palace, We presented to H.M. Queen Zawditu Our affectionate and respectful greetings; and afterwards We delivered the following speech:
Your Majesty!

When we explore Ethiopian history, the writings of great historians convincingly prove to us that Ethiopia has greater antiquity than most countries and that she was honoured for wisdom and learning.

Our Kebra Nagast testifies that, when the Queen of Sheba went to Jerusalem to hear Solomon's wisdom, she presented to him various gifts she had brought. This proves to us Ethiopia's antiquity and her wisdom.

Again, the fact that our fathers, the kings of Ethiopia, having crossed the sea, were governing the Arab country called Yemen demonstrates that, according to history, Ethiopia was a powerful nation.

But because wars with the pagans living all around Ethiopia developed from time to time to Ethiopia's detriment, she failed to find propitious opportunities to get markedly closer to foreign governments.

His Majesty, your father, the great Menelik II, together with the mighty ones who supported his throne, conquered once more all the territories that had been lost and made Ethiopia as far-flung as she had been in the past. He did everything possible to bring about a rapprochement with foreign governments.

His choice for this task, in the first place, of my father, H.H. Ras Makonnen, who was his brother and servant, shows us that there was great mutual trust between the two.
And now, when Your Majesty was meaning to manifest to the whole world Ethiopia's independence, the whole world was impressed by your wish that I, your son, should go to Europe and meet its kings and draw closer to them. You could not fail to have heard the news that on these occasions Ethiopia was greatly honoured and that Your Majesty's name was much praised.

I express the hope that henceforth Ethiopia, in educating and civilizing her sons, will attain as high a level as she had in her past. I have to inform you that the kings and presidents of Europe have requested that I should present to Your Majesty their greetings coupled with their gratitude.
After this the Tsahafe Te'ezaz, on behalf of H.M. the Queen, read the following speech: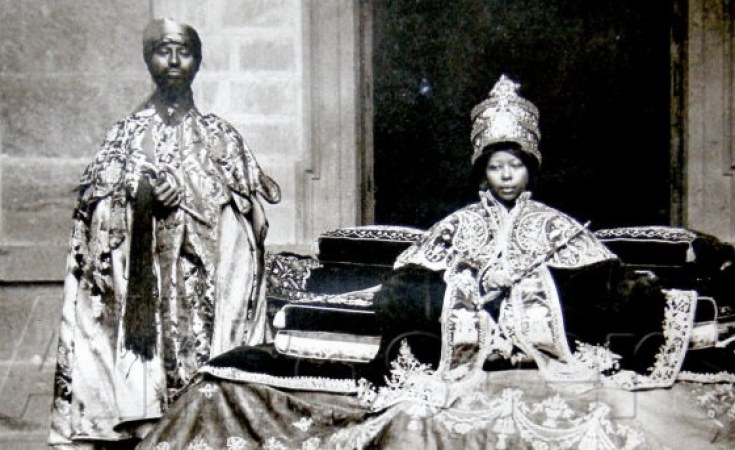 'Oh Crown Prince my son!

We took leave of each other with grief and tears when you left to meet the kings of Europe for the sake of the prosperity of our country and the benefit of our people. But now that you have returned safely and I have seen your face, I present thanks to God. Let this day be blessed.

Although our country Ethiopia is ancient, it is true that she remained distant from the kings of foreign countries because for much of the time she was surrounded by pagans. But later, when my father Menelik II had concluded the conquest and pacification of the surrounding territories which his fathers had already initiated, he intended to draw closer to foreign govern­ments. He therefore selected your father, Ras Makonnen, from among the princes and nobles and sent him to countries which he did not know. Ras Makonnen established friendly relations with their kings, carried out the wishes of Menelik II, and then returned home.
And you my trusted son went, like your father, to countries you did not know and patiently endured the turbulence of the sea and the heat of the sun, carrying out the plan which we had devised for the prosperity of our country and the good fortune of our people; you extended the friendship and affection of kings which had existed of old, and now I am very pleased about your return after carrying out my wishes.

Ethiopia presents her joyful thanks to God. Praise be to God, for all of you, princes and nobles, who travelled together have now safely returned without anyone of you missing.'
He concluded by saying: 'I beg our Creator that henceforth He should assist you to think about and to persevere in everything that is proper for the benefit of our people and for the prosperity of our country-as indeed you have witnessed abroad.'
After this We went to Our home; and as We found all Our family safe and well, We presented thanks to God.
Our African Heritage Online