Our organization of the southern army
We organized Our southern army in three parts, right, left, and centre wings.
We made Dejazmatch Nasibu, the representative of the Duke of Harar, Commander-in-Chief of the right wing of the southern army. We attached to him as aides Dejazmatch Habta Mika'el and Dejazmatch Amde, Dejazmatch Ababa Damtaw and Dejazmatch Makonnen Endalkatchaw. There was also a Turkish national, called General Wehib Pasha; since he knew about Italy's war of aggression against Ethiopia, he had come to help of his own free will and without any request on our part; We gave him to Dejazmatch Nasibu as adviser in any military matters. With regard to medical work, Dr. Hockman who had been working in the American mission hospital, established at Addis Ababa in the name of Tafari Makonnen, had given notice, through the Ethiopian Red Cross Society, of his wish to go down to Dagahbur to tend to the wounded; for the time being he went on his own. But later on a Red Cross Society had been set up at Cairo, Egypt's capital, for the assistance of the Ethiopian people; and Prince Ismail Dawd, a member of the royal house, had been sent by the Society together with upwards of twenty doctors and auxiliaries; he had arrived with a complete ambulance, and it was arranged that he should assist the right wing of the southern army with medical work.
We appointed Ras Dasta Commander-in-Chief of the left wing of the southern army. As support for him We nominated Dejazmatch Gabra Maryam and Dejazmatch Makonnen Wassane, Dejazmatch Dabbay Walda Ammanel, and Fitawrari Taddasa Ganname. For the medical work Dr. Hockman had been sent down by the Sudan Mission, but when he went to inspect the condition of a bomb and dismantled the screws, it exploded again and hit him. In consequence he died immediately and We had him brought by aeroplane to Addis Ababa where he was buried.
The valiant Grazmatch Afawarq, the army officer whom We had stationed at Gorrahei, had prepared trenches and had done well digging the ground to make it suitable as a firing position and for defence against bombs from aeroplanes. Hence, when Italian soldiers came there on two occasions, he sent them back defeated both times. And after the Italians had become convinced that they were unable to engage in an infantry battle, having closed in face to face with Grazmatch Afawarq at Gorrahei, they began unleashing a rain of bombs on the place, returning repeatedly by plane. On one occasion they dropped three hundred bombs there. But they did not cause much damage-apart from piling five men and wounding fifteen who had not observed the instructions to be cautious.
On Teqemt 23rd (= November 3rd) 20 aeroplanes returned and dropped bombs, and while the brave Grazmatch Afawarq was firing with the Oerlikon and taking aim to bring down a plane, a bomb splinter that had fallen by his side hit his leg and wounded him. As his bravery, after being wounded, inspired him further, he endured the pain of the wound and carried on his work.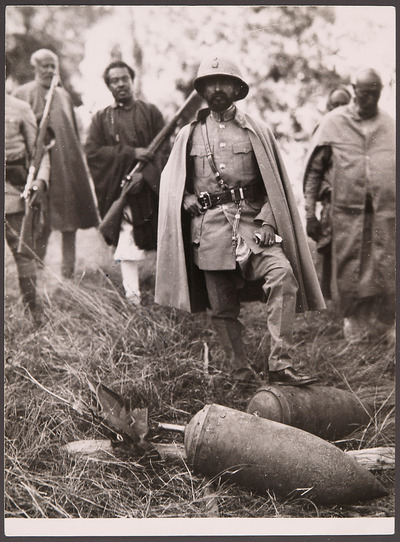 But after he had waited a little, he became aware that his strength was flagging and that he was unable to fire; he therefore requested to be carried off and they took him to a place where he could rest. It was only at Dagahbur, at a distance of some 220 kilometres, that the nearest doctor was; and he was concerned that his soldiers might disperse, if he were to go there. As he lay there, he notified the Commander-in-Chief, Dejazmatch Nasibu, by radio-telegram as follows: I am severely wounded and may perhaps die; therefore, please send an army officer quickly to Gorrahei to replace me.
Dejazmatch Nasibu despatched Fitawrari Gwangul Kolase as commander to Gorrahei. As they took Grazmatch Afawarq Walda Sama'et to Dagahbur for medical treatment, he died on the journey and they buried him with honour in the church of St. George at Dagahbur.
At this time, a physician of the (Sudan) Interior Mission had offered his help as a volunteer and went to Sidamo. But later on the Swedish Red Cross Society had appointed Dr. Hylander and sent doctors and auxiliaries together with a fully equipped ambulance; it was arranged that they should go to the left wing of the southern army.
To the centre wing of the southern army We appointed Dejazmatch Bayyana Mared as Commander-in-Chief and attached to him in support Bajerond Feqra Sellasse Katama, Fitawrari Atnaf Sagad Walda Giyorgis, Qagnazmatch Assefaw Walda Giyorgis as well as Qagnazmatch Salaba and Qagnazmatch Andom who had joined us, having deserted the Italians, because they refused to fight our country together with the enemy. For medical work, however, no doctor could be found for the time being, so those Ethiopians went who had some knowledge of bandaging wounds only. Later on it was arranged that some of the Swedish doctors who had gone to Ras Dasta should be detached and proceed to Dejazmatch Bayyana Mared.
Apart from this, before the beginning of the war, very few soldiers held all the small towns which were in the districts of the right southern front, such as Dagahbur, Bullale, Sasabane, Dagahamado, Burqot, Gorrahei, Haradiget, Gabredarre, Fafan, Cheqo, Webi Shebeli, Burdade, Tafari Katama as well as similar places on the left southern and central southern fronts. We gave orders to all the army officers who were on guard duty to stay in the positions to which they had been assigned; if the Italians attacked them they were to resist as far as possible, but if the aggression against them became too fierce they were to fall back.
But the Italians began to fly over in their planes and to unleash a rain of bombs upon all the little towns enumerated here above. But as the soil of the Ogaden province is dusty and sandy, most of the bombs were found buried in the sand-unexploded. Thus on one occasion a bomb that had fallen near Dagahbur was found unexploded.
Our Afrikan Heritage Online