The Prime Minister of Barbados, the Hon. Mia Amor Mottley due to criticisms leveled against her, and her party in the wake of their silence on the Black Lives Matters protest, has broken her silence.
The criticisms also came in the wake of the Royal Barbados Police Force's handling of an organized solidarity protest that exceeded the agreed amount of people that were to attend.
Here is footage taken at the solidarity protest.
Video by Mekkaman Films and Images
Dr Deryck Murray, the last Director of the Government's disbanded Commission on Pan-African Affairs, said he believes that the protest, organized by the Caribbean Movement for Peace and Integration, was undermined even before it began. In an article published recently in the Barbados Today he said "The first response a country with over 95 per cent of its population being black, the first response we should have given should have been from our leadership and so the Prime Minister really should have commented on the situation and expressed Barbados' concern.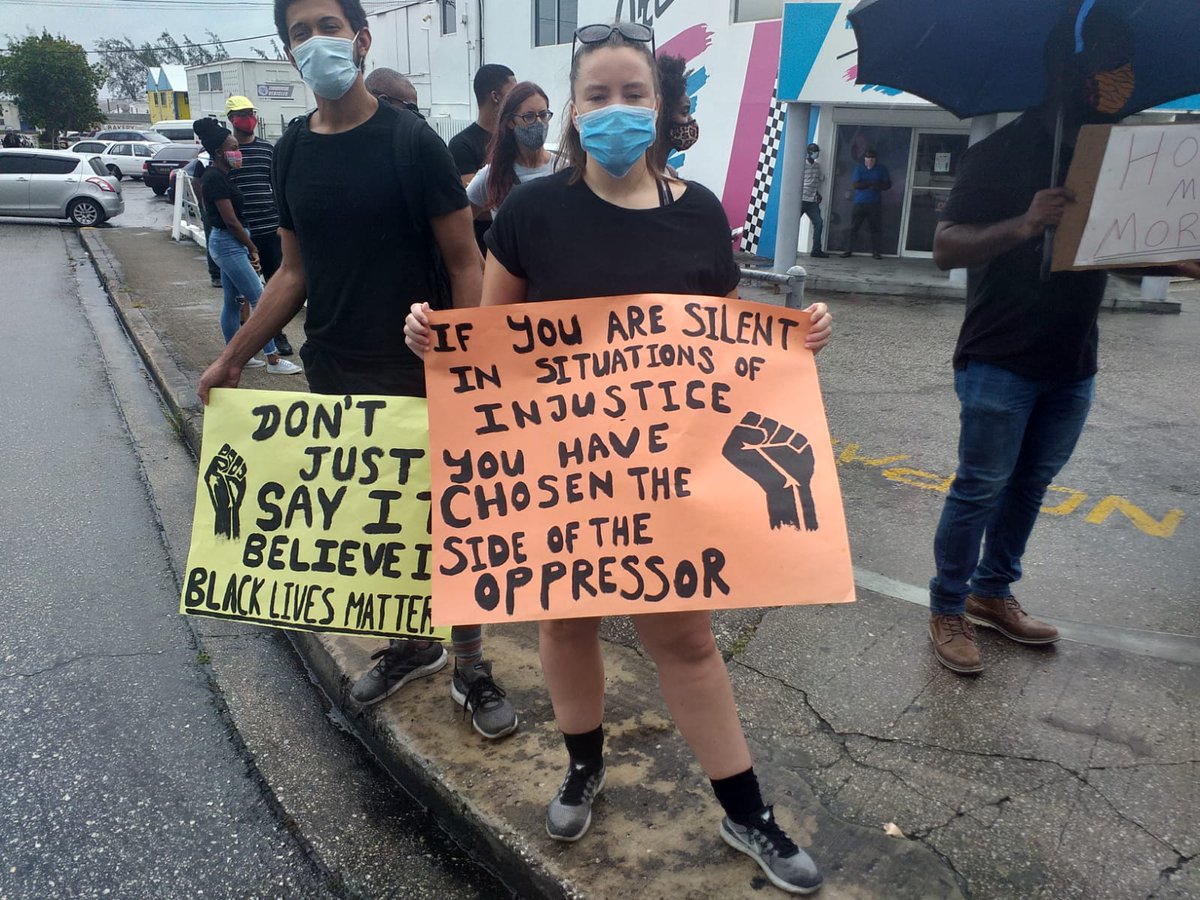 This is important because for almost any other ethnic group if an injustice like that happens anywhere in the world you are certain to hear an outcry from either ethic groups from the originating country whether it be China, India or somewhere in Europe, so by this account it should have been heard from the highest level."
The Prime Minister in an act of what a friend of mine called, " Deniable Plausibility", defended the action of her police force. She said, her investigations into the matter yielded an application letter seeking permission for 10 people to protest. As the video above shows more than 10 people wanted to participate, and came out to do so. In the same breath the Prime Minister stated that the police could have handled the situation differently. I for one agree with the Prime Minister, the "Force" could have been less, and more consideration given to the essence of the protest. Injustice to Black Life anywhere, should bring a response from Black Lives everywhere, are these police people not BLACK? Maybe their comradery to the institution of policing is greater than that of race and its related justice or lack thereof.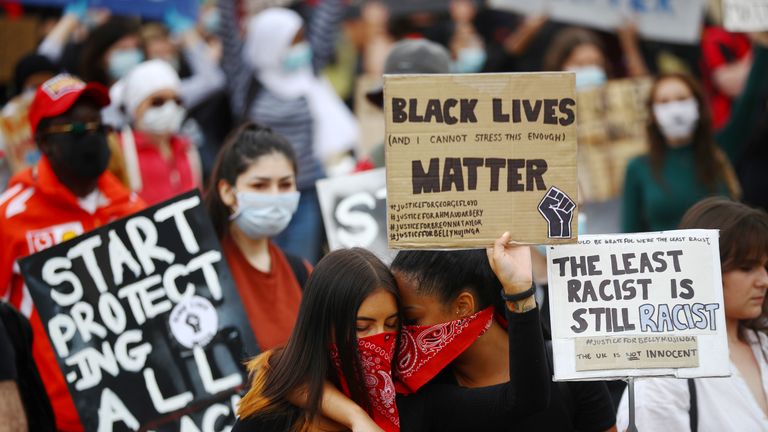 While the Prime Minister is very busy borrowing money to inject into the economy "sigh", one would think that as a BLACK woman running a "BLACK" government, she would have been appraised of the situation, and the impending solidarity protest. Further to this, if the application asked for 10, a " BLACK BLP" would have suggested an arrangement to facilitate a solidarity protest more befitting a country consisting of a 95% BLACK population, as said by Dr Murray.
As if this situation was not bad enough, the Prime Minister in her shrewd politicking gave this "LUKE WARM" solidarity message. I personally think this was a message for voter fall out control, and not so much about the matter at hand. Let us be clear that the matter at hand is RACIAL INJUSTICE.
Prime Minister Mottley speaks of racial pride and its instillation in our youth. Those of us that listen and see beyond the  Mottley illusionary magic, see the continued promotion of the ideal that BLACK people can be no more than a slave race. This ideal is cemented in the subliminal self talk of the Barbadian  nation through its inability to remove the detestable statue of Lord Horatio Nelson. That ideal has been given life in the establishment of an industry of service where 95% of those serving are BLACK, and 95% of those owing the remodeled plantations(hotels) are white. The Prime Minister's educational system has made no consorted effort to address African history in schools. How many of our youth know who Marcus Garvey, Patrice Lumumba, or Nzinga of Angola are? How many of them can tell us about the Haitian, and other such African centered liberation revolutions?  How many of them can contextualize African liberation revolutions of the past, in the light of their present realities? Barbadian culture as taught and promoted by our cultural officers and practitioners remains a story of the enslaved and conquered.
How then Ms Prime Minister can our youth find value in their BLACKNESS? Our women are sexually degraded in a national affair sponsored by your government;your department for culture does not have a single program that speaks to cultivating racial pride in our people. Your government Ms Prime Minister is embarking on a Medicinal Cannabis industry that is intended to financially benefit large WHITE companies and their BLACK counterparts while continuing to incarcerate poor BLACK people for the use of that same plant for traditional medicinal use. I must mention at this point the disrespect being handed out to the Rastafari community in the light of cannabis for sacramental use in the privacy of their homes and non public places.
Your actions don't match your words. A few trips to Africa does not change the reality of the colonial Barbados that the Prime Minister and her party upholds; they sit proudly in an old colonial building, operating a governmental structure created in the height of our enslavement and colonial rule.
More British than the British is your glory Barbados, and your claim to fame.
Slavery was an institution and its philosophy and underpinnings institutionalized through government law, police enforcement and educational physios. African Liberation must be institutionalized with its philosophy and underpinnings  institutionalized through government law, police enforcement and educational reform.
Another movement has been started to influence the removal of the statue of Nelson from where it presently stands. Let us see how the Mottley crew will address this. Maybe she does not know about the history of Nelson, "plausible deniability", lol.
Here is a link to an online petition to have Nelson removed from where it stands. If you are in agreement, please take a moment now to sign it. You can also type Lord Nelson into the search engine of this website for numerous articles on the statue of Nelson, and why it must be removed.
https://www.change.org/p/the-government-of-barbados-remove-lord-nelson-s-from-bridgetown?recruiter=1100820038&utm_source=share_petition&utm_campaign=psf_combo_share_initial&utm_medium=whatsapp&utm_content=washarecopy_22687028_en-GB%3Av5&recruited_by_id=14011dd0-a39a-11ea-b1ae-09d5c81f04b3
I heard the Prime Minister give a rational for her investment into Golden Square, and it was quite amusing, the theatrics,wow. She said while people were waiting to catch a bus, a child would ask its parent about the square; giving that parent the opportunity to tell the history of Clement Payne, and of a time when the average man and woman were denied much based on race and social class. On hearing this I smiled and thought to myself, how about the child going to town with their parent, and on seeing Nelson asks the question, who is that? What history will be told to that child? If the true history is told to the child at that moment, what will the answer be to a follow up question such as, why is he standing there?
Clement Payne monument in Golden Square
If we can just get pass the pretty Mia talk, we are faced with some serious questions and considerations.
MIA CARES! While that slogan may be true, one must ask the question, " ABOUT WHO"?
It was once written by a white historian that race was a contentious issue in Barbados that raised it heads from time to time, from under a mutual agreement of silence and peace.
Marcus Garvey said, " In the fight to reach the top the oppressed have always been encumbered by the traitors of their own race, made up of those of little faith and those who are generally susceptible to bribery for the selling out of the rights of their own people.As Negroes, we are not entirely free of such an encumbrance. To be outspoken, I believe we are more encumbered in this way than any other race in the world, because of the lack of training and preparation for fitting us for our place in the world among nations and races.The traitor of other races is generally confined to the mediocre or irresponsible individual, but, unfortunately, the traitors among the Negro race are generally to be found among the men highest placed in education and society, the fellows who call themselves leaders.For us to examine ourselves thoroughly as a people we will find that we have more traitors than leaders, because nearly everyone who essays to lead the race at this time does so by first establishing himself as the pet of some philanthropist of another race, to whom he will go and debase his race in the worst form, humiliate his own manhood,and thereby win the sympathy of the "great benefactor", who will dictate to him what he should do in the leadership of the Negro race."
Simba for the African Heritage Foundation
Wait before I go, don't forget the BLACK mother who crashed into a structure constructed by a WHITE man's business, claiming the life of her son. Let us not forget that the structure was before the terrible accident deemed illegal and a danger to the users of that highway. Let us not forget the actions and words of solidarity for that mother by Prime Minister Mottley and her team of lawyers when they were seeking election. Let us then not forget how the solidarity shifted in the light of big business. Let us not forget the mother stands alone in HIGH COURT for the death of her son.
BLACK LIVES MATTER IN BARBADOS TOO!