On the Barbados' Government Information Service (GIS) website an article was published which spoke to the coming of an African Awareness Festival in the month of August, in the year 2020.
In 2007 I thought to myself that Barbados did not have an African centered festival or media outlet. Many argued that the Crop Over festival was African centered, and that it was part and parcel of our season of emancipation. I would argue strongly that the sexual objectification of our women, the preoccupation with cheating (horning) that lords over this festival are consistent with behaviours that destroy the family. Being fully aware that the destruction of the black family was key to the making of Africans into slaves, I have always maintained that Crop Over was directly opposed to the movement and revolution of  our emancipation.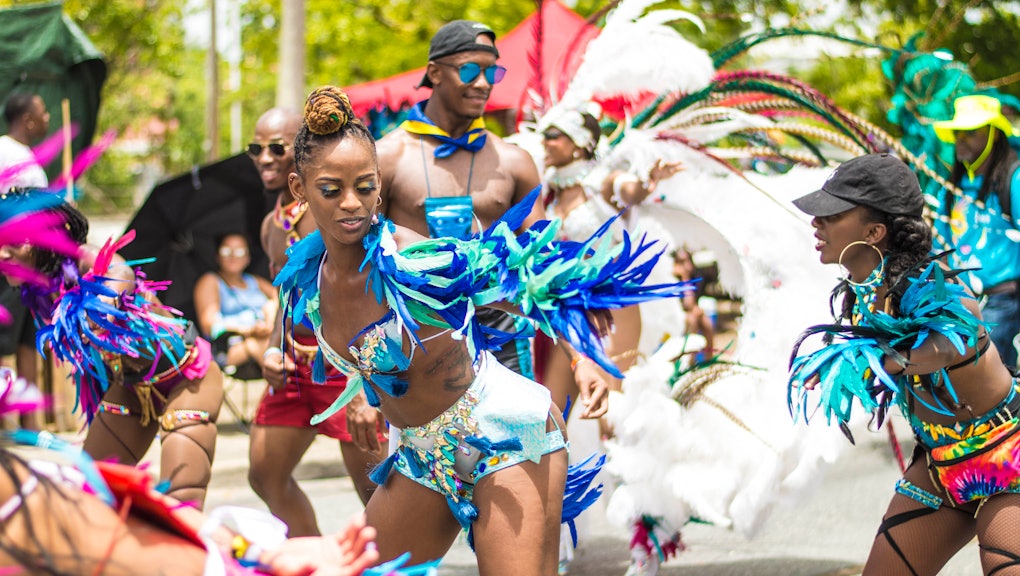 Being inspired by the life and work of Marcus Garvey I set out to publish an African centered magazine, which has evolved itself into this website. To date this website is one of the very few, if not the only website in Barbados that is African centered and filled with content that speaks to our African heritage, culture, revolutionary liberation movements and struggles, past and present. An annual African centered festival was also conceptualized in that year through the magazine. It is called "Sankofa" and was and still is, intended to be influential in the creation of a national African centered festival. As such news of the intended African Awareness Festival 2020 brings much joy to me.
However in my joy I remain sober and focused. With all things being equal the frog must be the frog and the scorpion the scorpion, thus a closer look at what was said by Prime Minister Mottley must be had.
The previously mentioned article states that the PM said "next August, Barbados would be hosting an African Awareness Festival". She went on to say,"The Cabinet has been very reflective of the importance of what we have been doing in building out and claiming our Atlantic destiny…and our government is firmly committed to having a physical presence in Africa, and in addition our government feels that we need to be able to define the month of August as that month in which we celebrate our Africanness, our heritage as children of Africa". I take it that these new found reflections by the "The Cabinet"  have something to do with the recent visits of African heads of state to the island. As I recall it, the last African head of state to visit the Caribbean was Haile Selassie I in 1966. We are now on the eve of 2020 and two African heads of states have visited. What is the significance of this? What do you think?
The Season of Emancipation runs from April 14th – August 23rd and was official established in 2005. The rum drinking and wukking up of Crop Over have dominated the Season of Emancipation for 14 years. Activities that are organized to highlight various aspects of our emancipation are annually poorly promoted, marketed and attended. In fact at the Emancipation Day celebrations organized by the National Cultural Foundation (NCF) for 2019, I cannot recall seeing "The Cabinet". The emancipation of African people and their descendants internationally cannot be a political gimmick.
In continuing, in the article  it was published that the Prime Minister, in emphasizing the relevance of the festival, stated: "As we come out of Crop Over, we move in to the festival so that in all things from St. Lucy to St. Philip … and from our engagement with our diaspora across the world, we should be in a position to celebrate and uphold for our young people to understand the dignity of their inheritance, the African contribution to our civilization." Clearly the PM can see that Crop Over is an affront to our dignity as African descended people. From where I stand it seems counter productive to have a festival that demeans us only to be followed by one that is designed to restore our dignity as African descended people.
This is my favourite part of the article, "Ms. Mottley said the festival would start from August 1, with Emancipation Day celebrations and continue on August 17 with a day of recognition for Marcus Mosiah Garvey, a man the Prime Minister noted "dared to be different and dared to define freedom in his own way rather than to be the recipient of crowns of those that felt that freedom should be unfolded in a manner that is demeaning and subordinate". My word! This coming from a government that cannot move the statue of Lord Nelson or at the very least put some signage that speaks to the truth of this man within his role in his fight to keep slavery alive. Marcus Garvey would roll in his grave at the thought of two black political parties who have consistently pandered to white interest, and have allowed over the past 50 years the descendant of our former colonizers to continue with their economic domination of the nation. He would be pissed at the fact that this government is placing what could be great economic and social relief for the masses, in the movement of cannabis reform, squarely in the hands of our past colonizers, while making preparations to eat the scraps of the proverbial massa's table. Would he be pleased with the Prime Minister for failing to assist Ms. Felisha Holder as she said she would, against Mark Maloney in the situation that caused the accident that claimed Felisha's son's life? I am positive he would not. I don't even think he would want to meet with the representative of the queen of our oppressors. How would he feel about the non-revolutionary energy disseminating from our university? What would he say about our Commission for Pan African Affairs? Wait, is there such an entity existing now?
I would like the PM to know, that Marcus was , is and will always be, opposed to colonial minded governments such as yours. Did you not feel ashamed to host the president of Ghana in a room, in the "Parliament Buildings" that housed only pictures and painting of our colonial masters? It is said that the best form of flattery is imitation. Do you really want to flatter Marcus? Do you have what it takes to imitate him, thus effecting a Garvey Sankofa of sorts for the betterment of all Barbadians?
Prime Minister Mottley said the festival would continue on August 23, when the world celebrates the abolition of the slave trade, "a date that should forever be etched in our minds as the descendants of slaves". Some would call it semantics, however, we are what we speak and embody. The PM should be mindful to please remember that we are not descendants of slaves, but of African people who were enslaved, many of whom were prisoners of war. The irony has not past us as this train of thought is academic. Our story did not begin with capture, torture and transportation across the Atlantic but in many great King and Queendoms of the African continent. The festival, which will feature food, music, arts and technology, will be organized by the Ministries of Culture and Tourism.
Join the African Heritage Foundation for its annual celebration of Marcus Garvey's birthday. This year we will gather and listen to several readings of Marcus Garvey speeches. We will then discuss his words in relation to our present situation as African descended people in Barbados. The above mentioned declarations of Prime Minister Mia Mottley will also be discussed in relation to Marcus Garvey. This activity will start at 5.00pm on Saturday 17th August at "Liberty House" Upper Two Mile Hill. St Michael. for more information about this activity, please call 260-4795.
Simba