It was with joy that I received the news that my application for legal aid in a matter I intend to peruse was approved.
While I am very disappointed that the matter had to come to this, I am delighted to have the opportunity to speak on behalf of my rights in a court of law. It is also the mark of a mature society, in my estimation, when a government office agrees to pay legal fees for someone that is bringing a Constitutional Motion against them.
Simba
My name is Paul Rock, known to many as Ras Simba. I have journeyed on the path of Rastafari for 29 years and have tried in my minute way, to continue giving offerings in the spirit of  the humanitarian contributions to my society, as set before by those who predeceased me. Countless are the sisters and brothers who were left with no choice but to face their oppressors in the courts of law on behalf of their constitutional and human rights, I now join that number.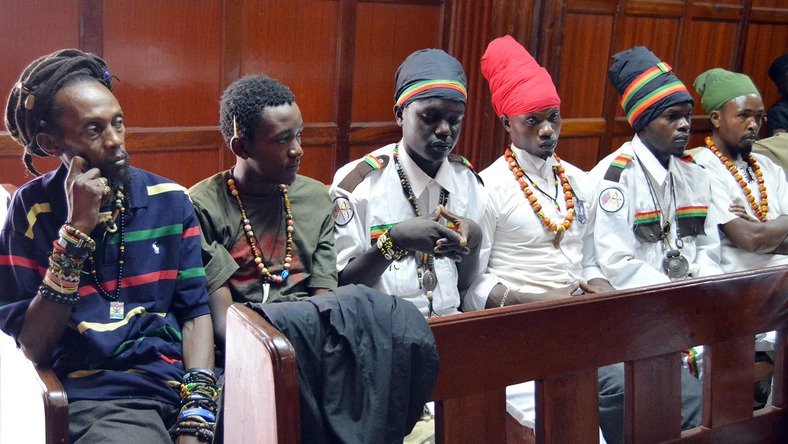 Soon I will be face to face with my oppressor in a court of law. There I will make representation for the right to have my home considered a place of worship within my religious/spiritual observances.
For the last 20 or so years I have been among a number of Rastafari brothers and sisters who have been advocating for the legalization of cannabis based on its spiritual and medicinal values to our community. Within this representation, cannabis is always presented as a plant that should be accessible to all adults. Many are the conferences, symposiums, panel discussions and the likes that I have attended and made contributions in over the years. However it was in the last year or so (2018-2019), that my activism in the cannabis legalization arena took root.
The announcement and subsequent establishment of a Medicinal Cannabis Industry by the Barbadian government validated the claims of the Rastafari community that cannabis had medicinal value. During the discussions that revolved around the establishment of such an industry in Parliament, I was given the opportunity to make representation for the traditional use of the plant at a Joint Select Committee Meeting. Myself and another member of my organization (African Heritage Foundation) made such representation at this meeting. At this Joint Select Committee Meeting I took the opportunity to speak to the government's wantonness to decide by public referendum the legal use of cannabis for recreational use.  I said that the fact that the government had included the use of cannabis for sacramental purposes within its recreational cannabis framework, was offensive to the Rastafari community. This prompted the Attorney General to ask me, "what was the difference between recreation and sacrament". To this I answered that recreation was linked to enjoyment and relaxation, something done in one's leisure time; sacrament was linked to spiritual/religious observances. I went on to say that while Christians found enjoyment at Church, their purpose for going was not for that, but for worship. The Attorney General had nothing more for me with that answer.
At the Joint Select Committee Meeting
An Attorney-at-Law had previously offered their services to assist the Rastafari community challenge the government as it pertained to their constitutional and human rights to use Cannabis for sacrament. This lawyer also spoke at the Joint Select Committee Meeting and spoke to his impending representation of the Rastafari community in the above mentioned matter. It was further said by the lawyer that it made no sense making the Rastafari community take the government to court in a case they (the government) could not win. I guess they listened and agreed.
The result of the presentation made by the above mentioned Attorney-at-Law, was a hasty move on the part of the government to draft a Sacramental Cannabis Bill. It was an earful to hear our politicians speaking to the fact that they could no longer afford to continue violating the rights of the Rastafari community, as it related to cannabis for sacramental use. This bill is now law. It is this new Sacramental Cannabis Legislation that is the root of my impending legal action against the government, as it continues to violate our constitutional and human rights.
Within the Sacramental Cannabis Legislation, it fails to recognize the Rastafari home as a place of worship. It makes strict provisions that limits the cultivation of the cannabis plant for sacramental use to a place of worship. Priest/Administrators of this place of worship have to make application seeking permission to cultivate and use the cannabis plant for sacramental usages there. They must give congregation size and the application must be signed by three administrators of the place of worship. Cannabis cannot be transported to or from this place of worship. Being that the majority of Rasses in Barbados are not affiliated to a particular mansion (denomination) of Rastafari, makes the legislation in question, null and void.
The restrictions and offences to the Rastafari community continue within the Sacramental Cannabis Legislation; each and every one will be reviewed in the courts of law.
It is my intention to have my (Rastafari Homes) home recognized as a place of worship, and as such, adults be legally allowed to cultivate cannabis for personal adult use there. The Sacramental Cannabis Legislation presently makes provision for visitors to the places of worship, that have accessed permission for sacramental use of the cannabis plant, to partake in the sacrament. It is also my intention to make the same representation for anyone who identifies with the Rastafari movement and their spiritual observances, to be allowed the right to cultivate their own personal sacrament.
My point of the home being a place of worship was highlighted during the early phases of COVID-19 safety protocols by the government. The closure of churches effectively turned many, many homes into places of worship. Church goers sat with Bible and Hymn Book in front their computers attending worship. Due to flawed Sacramental Cannabis legislation, the Rastafari community could not fully engage in their spiritual observances.
To this effect, I recently wrote this letter to the Attorney Generals Office, copying it to the Prime Minister's Office. No reply has come forth other than the Prime Minister's office saying they received it.
4/27/2020
 Hon. Dale D Marshall, Q.C., M.P
Attorney General
Office of the Attorney General
Jones Building
Webster's Business Park
Wildey
St. Michael
Barbados, W.I.
Good day.
First let me say that I hope this communication finds you and yours in good health in this time of grave dis-ease to our nation.
It is due to the reality of this time of tribulation that we are in, that I find myself compelled to reach out to you in the spirit of good faith, understanding and justice.
To justify my invested position in the matter I will address in this letter, there is a need for a brief overview of who I am. At the age of 21 I started my journey with Rastafari, I am now 50 years old. Within Rastafari there are numerous denominations, of which I belong to the Ivine Order of the Nyabinghi Theocracy Reign. This particular denomination is known to be the first collective gathering of Rastafari within a spiritual context.
I am the son of a Methodist Minister, the late Leonard Rock and as such I have a religious foundation; that with my knowledge of Rastafari fuels my Christ consciousness that seeks just reprieve for a situation that I and the entire Rastafari community in Barbados have been unjustly placed in. 
The recently enacted Sacramental Cannabis legislation acknowledges the right of Rastafari to use Cannabis for sacramental purposes, and for this much, thanks is given. However on the flipside of this acknowledgement came unjust limitations. While society is filled with limitations, it is the opinion of myself and the Rastafari community that the limitations placed on our community are unjust. The legislation in question allows for the cultivation and use of cannabis for sacramental purposes in places of worship. However it fails to acknowledge the Rastafari home as our primary place of worship. It also fails to take into consideration the essence of Rastafari which is nature based. This means, places that are secluded and nature oriented are considered prime places of worship for Rastafari individuals. In the drafting of the Sacramental Cannabis Bill, those in attendance should have noted that unlike myself, the majority of the Rastafari community does not affiliate itself with one particular denomination or the other. Thus, it must be noted that thousands of Rastafari brothers and sisters will not be facilitated and vindicated, by the adjustments of the government's attitude as it relates to cannabis and Rastafari within a sacramental framework. It must also be noted that Rastafari women who are affiliated with some Rastafari denominations are also disadvantaged by this new Sacramental Cannabis law. In the order of which I am an attendee, women who are on their monthly cycle are not permitted to attend spiritual gatherings. As such they are encouraged to commune at home in one spirit with the gathering that is being held. The legislation in question effectively prevents these women from fully spiritually participating in their worship.
I have made representation on behalf of traditional medicinal cannabis use at the Joint Select Committee Meetings; and have been very vocal in the media on the position of Rastafari as it pertains to their exclusion in any tangible prospects of the Medicinal Cannabis Industry. Despite the unconscionable treatment of Rastafari in the Barbadian Medicinal Cannabis revolution, I have made my services freely available to the Barbados Cannabis Licensing Authority and continue to work with them on various aspects of their development. I do believe in the Medicinal Cannabis Industry from a patient based perspective.
With the onset of the coronavirus, COVID-19 and the establishing of best health practices to curb the spread of the virus, all public gathering are prohibited. On this I am supportive of the government's actions. Schools, many businesses and churches are now closed physically and have gone online. As it pertains to the church, the home is now the place of worship. The Rastafari community like all others must abide by the laws of the land as it pertains to curfews and the gathering of people. As such, our homes as with all other spiritual based places of gathering has become our place of worship.
It is being asked of you to make an amendment to the Sacramental Cannabis legislation and allow the cultivation of a few plants for personal spiritual use at the homes of Rastafari people. One does not know just how long social gatherings will be affected by the COVID-19 pandemic and as such it is reasonable to allow persons to prepare for the long haul. We, members of the Rastafari community see how schools are being transitioned into homeschooling due to the uncertainty of school closures. It has been also noted that this homeschooling is now forced on the citizens of this island. Homeschooling was something the organization, the African Heritage Foundation, of which I am founder and president, championed in the court of law. The point is, I had to go to court to attain something that was not only a parents human right but that is practical and feasible for those who wish to utilize it in this age of technology. It is based on the unforeseeable COVID-19 future that I, on behalf of the African Heritage Foundation and the Rastafari community, seek the above mentioned amendment to the Sacramental Cannabis legislation.
 Please note, that for future reference it is suggested that the law that pertains to the social smoking of cigarettes apply to cannabis. That is, no smoking in confined public places. This is not a consideration now as we are all under curfew. I would like to make a suggestion of 5 – 7 female plants per Rastafari adult in a household. Male plants are of no significance as it relates to the sacramental use of cannabis as they bear no flowers or bud. However the distinguishing of male from female plants is traditionally done based on seed sacks or balls formation on plants. These plants are uprooted and uses for teas. This is important for authorities to note, as one would have to plant more than required amount to produce the required amount. Authorities should allow for a nursery of at least 15 seedlings, 15 young trees and 5 – 7 female trees.
It must be noted that I have retained legal counsel and am in the process of making a legal motion to address the situation as presented in this letter, which as I understand from my lawyer is unconstitutional. I have approached legal affairs and documentation that speaks to this may have reached your attention already. I do hope COVID-19 has provided the government the legs it needs to stand on to do what is right and just in the matter of Rastafari and Sacramental Cannabis law.
I conclude this communication by thanking you for taking the time the read this letter. I do hope to receive a response sooner than later and am most willing to address any concerns and answer any question you may have.
Contact is as follows. Cell 260-4795, Home 547-6553 Email; info@afrikanheritage.com
Kind Regards
Paul Rock (Ras Simba)
President
African Heritage Foundation.
As much as I am permitted, I will share developments in this case.
Simba