African black soap (also called African soap or black soap) is the latest skin care product to reach "holy grail" status, and for good reason.
Touted as a solution for breakouts, hyperpigmentation, stretch marks, and everything in between, black soap is the ultimate beauty buy for those on a budget. A one-size-fits-all approach to flawless skin? Sign us up!
And unlike the synthetic soaps you find at the drugstore, authentic black soap is handmade from plant-based ingredients in Africa. 
Natural antibacterial properties make African black soap an excellent alternative to chemical-laden cleansers.
In fact, it may actually remove more bacteria than chemical cleansers do. Despite its strength, black soap is gentle enough to use on your:
If you have dry or sensitive skin, you likely already know that scented soaps and lotions are off-limits. African black soap is naturally fragrance-free — just make sure your chosen product is labeled "unscented."
People with oily or combination skin are also in the clear! Black soap can help balance your skin's natural oil production without stripping necessary oils or adding excess oil to your skin.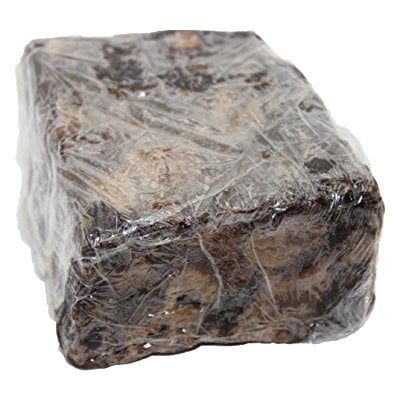 Shea butter is a crucial ingredient in black soap. While shea can help relieve itchiness and soothe dry skin, cocoa and coconut oil add moisture.
Black soap is rich in vitamins A and E. These vitamins are both antioxidants, which help combat free radicals and attacks on otherwise healthy skin tissues.
This may be helpful for people who have inflammatory conditions like rosacea.
One study on the effects of African black soap found the product effective for seven types of fungus — this includes the common Candida albicans yeast.
You can safely use African black soap to help treat conditions like toenail fungus and athlete's foot.
The benefits of African black soap lie in its ingredients, which includes a combination of:
cocoa pods
coconut oil
palm tree leaf derivatives, including palm kernel oil and palm oil
plantain bark, which contains iron, as well as vitamins A and E
shea butter
Keep in mind that the ingredient makeup of black soap largely varies based on the region of Africa where it's made. For example, plantains are found in Central and Western Africa, but not in Eastern Africa.
You may also find black soap with added essential oils, such as eucalyptus, to promote relaxation. Some African black soap bars contain added oatmeal or aloe vera.
Source: Healthline
In Stock