Italy, on her part, stepped up her propaganda campaign by distributing forged leaflets allegedly signed by Us and stamped with Our seal. Our picture was also printed to make the materials look as if they were sent out by Us.
Italy did this to deceive the Ethiopians who had been cooperating with her in order to ensure their continued service. She distributed printed materials supposedly sent from the noblemen who were with Us, claiming that We were returning with a plan of retribution against the collaborators, and that We were vesting titles in Our patriots only to revoke them as soon as We returned. Nevertheless, her propaganda was never effective. It rather exposed her own inherent weakness.
Italy's imposition of her rule over Our people and her use of such cheap propaganda did not surprise Us at all. Naturally, as the saying goes, truth and quality become visible gradually. For that reason Our confidence rested on doing the right thing. In Our declaration of Hamle 16, 1932 E. C. [July 23, 1941], We made clear that We harbored no feeling of retribution against either the bandas or the ascari officers. We were basically intent on freeing Our country from the yoke of the enemy, using whatever means were available to Us. We never contemplated taking revenge on the people who were divided among themselves because of the difficult times. That Our aim was only this, was demonstrated during the ensuing period.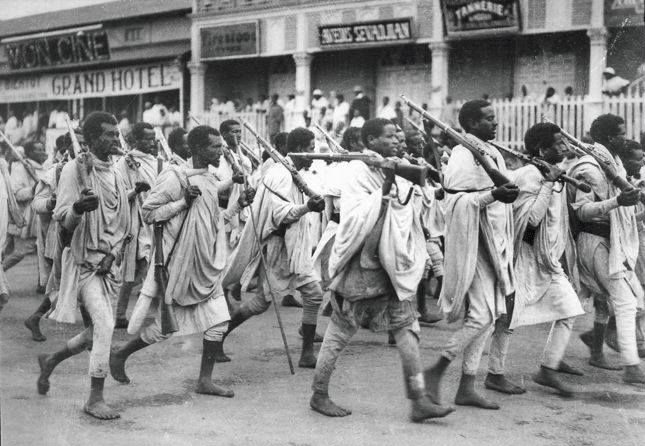 Italy's motive for its cheap and confusing propaganda was to protect her power from eroding and to preserve the integrity of her army. At the same time she wanted to demoralize Our people, but to counter her ploy, We made educating Our people one of Our objectives and also made corrective responses to Italy's allegations.
Those who struggled valiantly against the Italians were to be rewarded by land allocations, according to each one's contribution, after independence had been restored. Despite Italy's attempt to portray Us as ungrateful, We were sure that it was not the right time for Us to belittle or praise the accomplishment of individual patriots.
We even had no intention of carrying out reprisals against those who forged and falsified Our seal and signature. This was known to Our Creator alone, who in those days was keeping record of all We aspired to accomplish.
It is also to be remembered that, when we were in exile, the Italians circulated false rumors of Our death. In like manner, even while We were in the Sudan, Italy continued to spread her sinister propaganda. Some bandas fell victim to her wicked machinations. Disillusioned, some of them died fighting to the last moment for Italy. On Our part, We did Our best to tell the truth about Our campaigns.
To that end, We sent a group of messengers to Ethiopia in order to continue the war of politics against Italy. The group prepared and distributed leaflets of its own along with some sent from Us, thereby spreading the news of Our return. As a result, most of Our people were convinced to make a determined struggle in order to free themselves from the yoke of the enemy and to join our unity.
In addition to all these, We established, on Tikimt 4, 1933, E. C. [Oct. 14. 1940], a newspaper called Our Flag and began its distribution in Kassala, Teseney, Metemma and Guba, Assosa, Bahir Dar, Dangla, Bure, Gedaref, and Beni Shangul. The first editors of the newspaper were Ato Tamrat Amanuel and Captain Steer, but afterwards, We named Sirak Herui as editor
Our African Heritage Online