I have only ever attended one "Reggae On The Hill"event, and that was in in 2007. At that time, 21 attendees of the event were arrested for the possession of cannabis. Police moved through the crowd man handling and arresting anyone the saw smoking a spliff, while they listened and danced to the sounds of the music that was greatly influenced and inspired from the use of cannabis. The "Nation Newspaper " reported on the good job the police did that day in arresting those 21 people. I can attest to the fact that, that event had over 8000 people in attendance, I think it was said by the media, 15, 000 people attended. Nevertheless through my personal observation, clouds of cannabis smoke permeated the air and I would estimate over 2000 people were enjoying a cool cannabis meditation as they listened to the reggae being performed for them. I left the show early disgruntled by what I saw transpiring and vowed that if this was not addressed I would personally boycott that show regardless of who they brought to perform and how much I wanted to see and hear them perform.
The situation has never been addressed and here I am in 2018 reading in the same "Nation Newspaper' about the arrest of 21 people attempting to enter "Reggae On The Hill" with their cannabis.
http://www.nationnews.com/nationnews/news/153110/ganja-swoop-hill 
The promoter or at least one of them said, as reported in media, ""People will try to do what they want to do but the police were more vigilant than I've seen them before in terms of ensuring that as little marijuana as possible got on the premises. There were at least two drug-sniffing dogs at the entrance and a few people were caught in possession with small quantities of marijuana. They were arrested and charged as far as I am aware," Gilkes added.
The report went on to say "before performing Medical Marijuana, Queen Ifrica said she usually did not get involved with politics, but was very vocal in her support of the legalization of cannabis. She linked it to a decrease in crime and increased revenue."Gilkes went on to say "that though FAS Promotions did not encourage such statements, they were not unheard of in entertainment. It's not something new, it's something that has been going on for a few years".
"A FEW YEARS"? I am very sure that Mr. Gilkes is aware that Reggae music was a creation of the Jamaican ghetto people with its major creators being brothers and sisters of the Rastafarian community who were demonized, brutalized and incarcerated for their look, their allegiance to Ethipoia and her monarch, and the use of cannabis, which they regarded and still regard as sacred. In many spheres Reggae is known to be the "King's Music" as it tells the story of African redemption and the freedom from physical and mental slavery. " Fire Bun Colonialization" is a popular chat of Rastafari and embodies the essence of the movement. Reggae without cannabis is like Pizza without Cheese.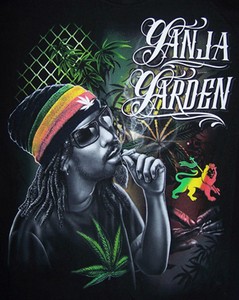 One year, a police officer saw one of the overseas entertainers in possession of a small quantity of cannabis and attempted to arrest them. FAS Entertainment was very quick to publicly ridicule and denounce the actions of the police at that time, but has never failed to keep silent when this same treatment is dished out to patrons of the event.
My question is, why in the name of anything that is founded on principle, would the Barbadian Rastafari community support "Reggae On The Hill"? I have long said that the hill should not have the patronage of the Rastafari community. Let the entertainers come and get paid for plying their trade to non – Rasta people. As I said before our elders in the movement of Rastafari paid a great price for the creation and promotion of this music and as such Rastafari people should pay greater homage to it and the energy that created it. I have been to Reggae shows in many countries and it seems to me that law enforcement officials understand the relationship between cannabis and Reggae music and it is respected as such. Not in Barbados! The music is disrespected, ridiculed and then exploited by men who for the most part don't even like Rasta to tuff.
"Reggae On The Hill" is a slap in the face of Rastafari and of all cannabis advocates. I do hope that by "Reggae On The Hill" 2019, the laws on cannabis in Barbados would be reevaluated and changed towards the direction of legalization. However if not, I do hope that Rastafari brothers and sisters take a principled stance over the hype of the activity and boycott that event in particular. For the total disrespect FAS entertainment continues to show Rastafari I personally refuse to attend anything it promotes, ANYTHING.
I will leave the Rastafari brothers and sisters who are reading this article with this piece of factual information. Some years ago "Temple Yard" that is a Rastafari business community in the heart of the city, caught fire. At least 10 shops were destroyed. With them much arts and craft went up in flame.
I was part of a concerted effort on the part of members of this community to rebuild the space and assist the poor Rastafari shop owners who had sustained great losses due to the fire. I under the direction of "Temple Yard" would write a letter to FAS Entertainment asking them to allow a "Temple Yard" stall at "Reggae On The Hill". This stall would be used as one fund raising effort by "Temple Yard" as that Rastafari collective sought to rebuild its business space.  No response ever came from FAS although they received the correspondence. Again, why does the Rastafari community continue to support "Reggae On The Hill".
Simba Simba
Click the link and listen to what the Queen is saying.
https://www.youtube.com/watch?v=iqHt_ZV1ajc