As we focus on police violence, we cannot ignore an even starker indication of our societal failures: Racial income disparities today look no different than they did the decade before King's March on Washington.
In 1950, according to a forthcoming study by the economists Moritz Schularick, Moritz Kuhn and Ulrike Steins in The Journal of Political Economy, black median household income was about half that of white Americans, and today it remains so. More critical, the racial wealth gap is about the same as it was in the 1950s as well. The typical black household today is poorer than 80 percent of white households. "No progress has been made over the past 70 years in reducing income and wealth inequalities between black and white households," according to the study.
And yet most Americans are in an almost pathological denial about the depth of black financial struggle. That 2019 Yale University study, called "The Misperception of Racial Economic Inequality," found that Americans believe that black households hold $90 in wealth for every $100 held by white households. The actual amount is $10.
About 97 percent of study participants overestimated black-white wealth equality, and most assumed that highly educated, high-income black households were the most likely to achieve economic parity with white counterparts. That is also wrong. The magnitude of the wealth gap only widens as black people earn more income.
"These data suggest that Americans are largely unaware of the striking persistence of racial economic inequality in the United States," the study's authors write. Americans, they write, tend to explain away or justify persistent racial inequality by ignoring the "tailwinds that have contributed to their economic success while justifying inequalities of wealth and poverty by invoking the role of individuals' traits and skills as explanations for these disparities." They use the exceptional examples of very successful black people to prove that systemic racism does not hold black Americans back and point to the large numbers of impoverished black people as evidence that black people are largely responsible for their own struggles.
In 2018, Duke University's Samuel DuBois Cook Center on Social Equity and the Insight Center for Community Economic Development published a report called "What We Get Wrong About Closing the Racial Wealth Gap" that examined the common misperceptions about the causes of the racial wealth gap and presented data and social-science research that refutes them all.
The study shows that the racial wealth gap is not about poverty. Poor white families earning less than $27,000 a year hold nearly the same amount of wealth as black families earning between $48,000 and $76,000 annually. It's not because of black spending habits. Black Americans have lower incomes over all but save at a slightly higher rate than white Americans with similar incomes. It's not that black people need to value education more. Black parents, when controlling for household type and socioeconomic status, actually offer more financial support for their children's higher education than white parents do, according to the study. And some studies have shown that black youths, when compared with white youths whose parents have similar incomes and education levels, are actually more likely to go to college and earn additional credentials.
But probably most astounding to many Americans is that college simply does not pay off for black Americans the way it does for other groups. Black college graduates are about as likely to be unemployed as white Americans with a high school diploma, and black Americans with a college education hold less wealth than white Americans who have not even completed high school. Further, because black families hold almost no wealth to begin with, black students are the most likely to borrow money to pay for college and then to borrow more. That debt, in turn, means that black students cannot start saving immediately upon graduation like their less-debt-burdened peers.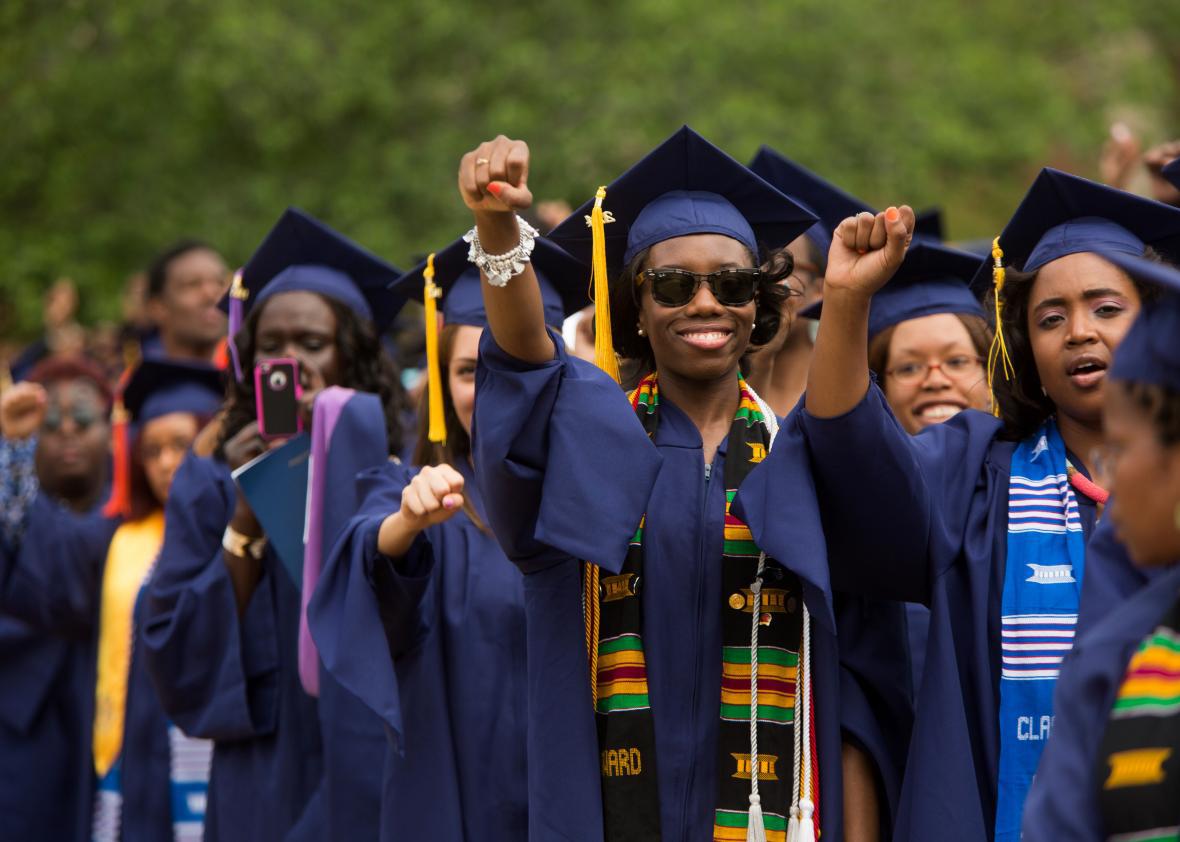 It's not a lack of home ownership. While it's true that black Americans have the lowest home ownership rates in the nation, simply owning a home is not the same asset that it is for white Americans. Black Americans get higher mortgage rates even with equal credit worthiness, and homes in black neighborhoods do not appreciate at the same rate as those in white areas, because housing prices are still driven by the racial makeup of communities. As the Duke University economist William Darity Jr., the study's lead author, points out, the ability to purchase a home in the first place is seldom a result of just the hard work and frugality of the buyer. "It's actually parental and grandparental wealth that facilitates the acquisition of a home."
It's not because a majority of black families are led by a single mother. White single women with children hold the same amount of wealth as single black women with no children, and the typical white single parent has twice the wealth of the typical two-parent black family.
To summarize, none of the actions we are told black people must take if they want to "lift themselves" out of poverty and gain financial stability — not marrying, not getting educated, not saving more, not owning a home — can mitigate 400 years of racialized plundering. Wealth begets wealth, and white Americans have had centuries of government assistance to accumulate wealth, while the government has for the vast history of this country worked against black Americans doing the same.
"The cause of the gap must be found in the structural characteristics of the American economy, heavily infused at every point with both an inheritance of racism and the ongoing authority of white supremacy," the authors of the Duke study write. "There are no actions that black Americans can take unilaterally that will have much of an effect on reducing the wealth gap. For the gap to be closed, America must undergo a vast social transformation produced by the adoption of bold national policies."
If true justice and equality are ever to be achieved, our country must finally take seriously what it owes black people.
Source: NY Times