At the center of those policies must be reparations. "The process of creating the racial wealth chasm begins with the failure to provide the formerly enslaved with the 40 acres they were promised," Darity told me. "So the restitution has never been given, and it's 155 years overdue."
Darity has been studying and advocating reparations for 30 years, and this spring he and his partner, A. Kirsten Mullen, published the book "From Here to Equality: Reparations for Black Americans in the 21st Century." Both history and road map, the book answers the questions about who should receive reparations and how a program would work. I will not spend much time on that here, except to make these few points. Reparations are not about punishing white Americans, and white Americans are not the ones who would pay for them. It does not matter if your ancestors engaged in slavery or if you just immigrated here two weeks ago. Reparations are a societal obligation in a nation where our Constitution sanctioned slavery, Congress passed laws protecting it and our federal government initiated, condoned and practiced legal racial segregation and discrimination against black Americans until half a century ago. And so it is the federal government that pays.
Reparations would go to any person who has documentation that he or she identified as a black person for at least 10 years before the beginning of any reparations process and can trace at least one ancestor back to American slavery. Reparations should include a commitment to vigorously enforcing existing civil rights prohibitions against housing, educational and employment discrimination, as well as targeted investments in government-constructed segregated black communities and the segregated schools that serve a disproportionate number of black children. But critically, reparations must include individual cash payments to descendants of the enslaved in order to close the wealth gap.
The technical details, frankly, are the easier part. The real obstacle, the obstacle that we have never overcome, is garnering the political will — convincing enough Americans that the centuries-long forced economic disadvantage of black Americans should be remedied, that restitution is owed to people who have never had an equal chance to take advantage of the bounty they played such a significant part in creating.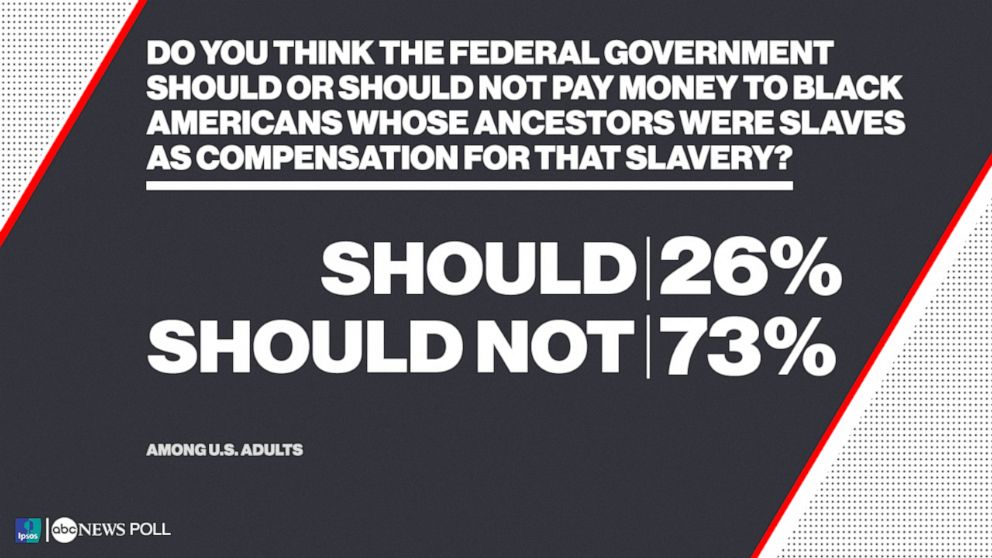 This country can be remarkably generous. Each year Congress allocates money — this year $5 million — to help support Holocaust survivors living in America. In backing the funding measure, Representative Richard E. Neal, a Democrat from Massachusetts, said in 2018 that this country has a "responsibility to support the surviving men and women of the Holocaust and their families." And he is right. It is the moral thing to do. And yet Congress has refused for three decades to pass H.R. 40, a bill to simply study the issue of reparations. Its drafter, Representative John Conyers Jr., a Michigan Democrat and descendant of enslaved Americans, died in 2019 — during the 400th anniversary of the arrival of the first Africans enslaved in Virginia — without the bill ever making it out of committee.
There are living victims of racial apartheid and terrorism born in this country, including civil rights activists who lost their homes and jobs fighting to make this country a democracy, who have never received any sort of restitution for what they endured. Soon, like their enslaved ancestors, they will all be dead, too, and then we'll hear the worn excuse that this country owes no reparations because none of the victims are still alive. Darity and Mullen call this the "delay until death" tactic. Procrastination, they say, does not erase what is owed.
The coronavirus pandemic has dispatched the familiar lament that even if it is the right thing to do, this nation simply cannot afford to make restitution to the 40 million descendants of American slavery. It took Congress just a matter of weeks to pass a $2.2 trillion stimulus bill to help families and businesses struggling from the Covid-19 shutdowns. When, then, will this nation pass a stimulus package to finally respond to the singularity of black suffering?
Colossal societal ruptures have been the only things potent enough to birth transformative racial change in this country, and perhaps a viral pandemic colliding with our nation's 400-year racial one has forced that type of rupture today. Maybe it had to be this way; this deep and collective suffering was necessary for white Americans to feel enough of the pain that black Americans have always known to tilt the scale.
With Covid-19, black Americans face a financial catastrophe unlike any in nearly a century. Black Americans had already lost the largest share of their wealth of all racial groups as a result of the last recession and have struggled the most to recover. They are the only racial group whose household median income is less than it was in 2000. Today already more than half of black adults are out of work. Black businesses are withering. Their owners were almost completely shut out of the federal paycheck-protection program — just 12 percent of black and Latino business owners who applied for the small-business loans received the full amounts they requested, according to a Global Strategy Group survey last month. Nearly half the respondents said they would most likely shutter permanently within six months. Black children are expected to lose 10 months' worth of academic gains because of school closures, more than any other group, and yet they attend the schools with the least resources already, schools that will have even fewer resources as states slash spending to make up for budget shortfalls. One in five black homeowners and one in four renters have missed at least one home payment since the shutdowns began — the highest of all racial groups.
The pandemic, Keeanga-Yamahtta Taylor, a scholar of social movements and racial inequality at Princeton University, told me, "has pulled what is hidden and buried on the bottom to the surface so that it can't actually be ignored. It is a radicalizing factor because conditions that have been so dire, now combined with revolts in the street, might lead one to believe that not only is the society unraveling, but it might cause you to question what foundation it was built upon in the first place."
Race-neutral policies simply will not address the depth of disadvantage faced by people this country once believed were chattel. Financial restitution cannot end racism, of course, but it can certainly mitigate racism's most devastating effects. If we do nothing, black Americans may never recover from this pandemic, and they will certainly never know the equality the nation has promised.
So we are left with a choice. Will this moment only feel different? Or will it actually be different?
If black lives are to truly matter in America, this nation must move beyond slogans and symbolism. Citizens don't inherit just the glory of their nation, but its wrongs too. A truly great country does not ignore or excuse its sins. It confronts them and then works to make them right. If we are to be redeemed, if we are to live up to the magnificent ideals upon which we were founded, we must do what is just.
It is time for this country to pay its debt. It is time for reparations.
Source: NY Times
---